Jack Johnson Needs to Be Scratched. Enough is Enough.
Enough excuses. The Penguins don't have time to screw around.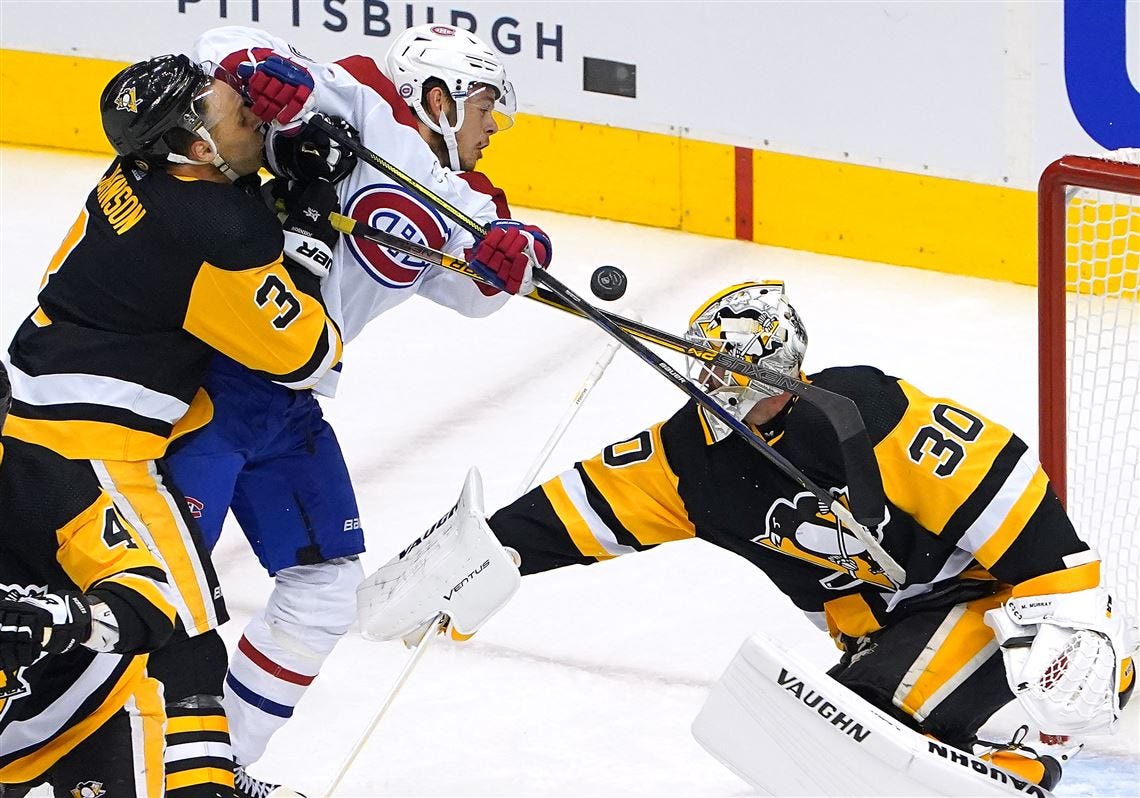 Smart Penguins fans have been constantly accused of having made up their minds the day Jack Johnson was signed in July 2018, that they're just trusting spreadsheets, and that this is a classic case of "eye test versus analytics." That narrative was garbage from day one, and with the eyes of the hockey world on the Penguins it's never been plainer. Within the insular universe of the Pens fandom, crap like "some armchair GMs say his heat maps are bad, but the Hall of Fame front office says they believe in him" is frustrating, but exposed to hockey fans at large it's just embarrassing.
At this point, there's almost no point in talking about Johnson from an analytical perspective, because most people who think about hockey more closely than to parade around descriptors like "brings physicality" or "is a stable presence" are already at least vaguely aware of the statistical case against him. He's a black hole offensively, gets buried defensively, can't move the puck, etc. When he plays with the Penguins' stars, it kneecaps them - the bulk of Malkin and Kessel's struggles in 18-19 came from playing so often with him and Schultz, and ditto for Crosby this February. When he plays on the top pair he gets caved in, when he plays on the bottom pair he gets caved in, when he plays on his off side he gets caved in, when he plays on the left side he gets caved in, etc. etc. until your eyes roll back in your head.

Anybody who has watched the Penguins with a remotely critical eye and no professional obligation to maintain a friendly relationship with the team's front office can tell you that the notion that Jack Johnson is an "eye test" player is crap. He's slow, incapable of handling the puck, and can't keep up with quick opponents in the offensive zone. In a system that requires mobility and snappy transition play from its defencemen, Johnson sticks out like a sore thumb. He accumulates shot blocks because his team is stuck in their own end when he's on the ice. He piles up hits because he chases them relentlessly, often to the detriment of those forced to cover for him as he struggles to return to the play. He plays on the penalty kill - despite performing poorly there by any measure - because that's his job, and if you're gonna pay him $3.25, well, you better play him on the PK. The dissonance between what you see (on the ice or on the stats sheet) and what you hear from reporters, coaches, and management is almost maddening.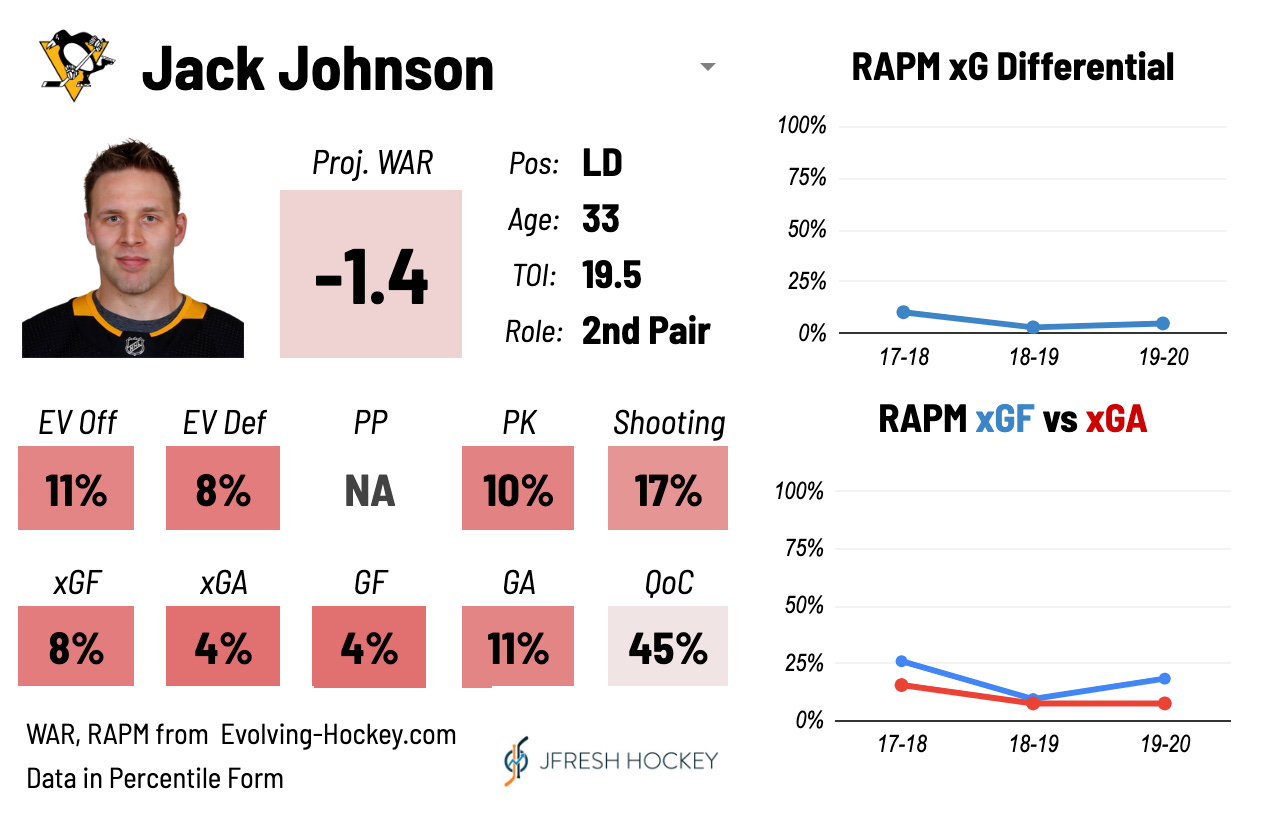 The fact of the matter is that it wasn't the skeptical fans who made up their minds about the signing the day it happened - it was the beat reporters. Fans want their team to succeed, and if Johnson had played well we would have been surprised but relieved. See Brandon Tanev as evidence - many fans who were critical of that contract have been very content with his play and have not been restrained in their appreciation of him as a player. If Johnson played well, they'd be happily proven wrong. Compare that to the media. As soon as the wisdom of the front office was challenged by nerds, gallantly defending Jack Johnson's play became almost a part time job. The justifiable anger and frustration of a large portion of the fanbase in response to such a blatantly unadvisable move was interpreted as the pinnacle of Armchair GM arrogance, and proving these commenters wrong led to two full seasons of dedicated PR that certainly had not been offered to comparable UFA acquisitions like Matt Hunwick. A set of Pittsburgh beat reporters have served their readers a steady diet of puff pieces and excuses, continuously emphasizing the intangible benefits of having Johnson in the lineup and endorsements by Championship-winning members of the front office. Bombarding reasonable criticisms with incessant appeals to authority, whether from Rutherford, Sullivan, or any number of teammates, has been the norm. Never mind that for his entire tenure, Rutherford has constantly made mistakes - borne out by the fact that he admirably has often wasted little time in reversing them. No Penguins depth player has ever had more excuses made for them than Johnson; whether it was playing on his off-side, adjusting to a new system, or playing too high in the lineup, there was always an explanation for the horrible results and a heartwarming anecdote about leadership to accompany it. The goalposts have shifted endlessly, as his struggles have been harder and harder to handwave.
The absolute last resort excuse, that having a bad 3rd pairing defenceman isn't the end of the world, hasn't held either, not only as evidenced by the devastating impact he's had in this series but because (as many including myself predicted) the thing Jack Johnson is best at is gaining the trust of his coaches. Whether it's getting picked for Team USA by his Columbus coach John Tortorella, not ever getting scratched in 2018-19 save for a single game, wearing an "A" for the Pens when injuries hit, or inexplicably getting glued to the top pair with calamitous results in a month which literally cost the Penguins a guaranteed playoff spot this season, there is something about Johnson that appeals so deeply to his coaches that he does not have to worry about his abysmal play having any consequences. Mike Sullivan is an excellent coach, one of the best in the league. If his inability to just scratch a crummy slow 33 year old defencemen who is clearly terrible is what indirectly costs him his job, it will have been a tremendous waste. Losing to the 24th seed a year after getting swept out of the first round is the kind of thing that gets you fired. I pray it doesn't happen. But he's picked a hell of an Achilles heel. This generosity of spirit does not apply to the Juuso Riikolas and Chad Ruhwedels of the world, are forced to watch from the pressbox as #3 consistently and without consequences makes plays that would get them benched in a second.
These writers had their brief window of vindication early in the 2019-20 season, as Johnson's play seemed to improve and his underlying numbers finally fit his supposed profile of "low-event defensive defenceman". Here was proof that Johnson, paired with unknown rookie John Marino, was capable of being a solid and stable contributor when played in the right role. Except that it quickly turned out that Marino was actually in the process of emerging as one of the best young defencemen in the league, arguably elite defensively already as a 22-year old. People can be excused for not recognizing it at the time, but ignoring it in retrospect is just plain selective memory. And when the Johnson/Letang pairing put together the single worst stretch of play by a top pair in the Crosby era, singlehandedly sinking the Penguins' spectacular season, well, that's not fair to criticize because he was played above his ideal role! And when he does play that role, on the third pair tasked with being the defensive balance to Justin Schultz's supposed offensive prowess, well, maybe it's just a bad fit. If Johnson needs to be paired with the best young defenceman the Pens have had since Kris Letang to even be okay, maybe he's just a bad player.
The Penguins are running out of time in every sense. They're running out of chances to win this series (Dom Luszczyszyn's model, which was bullish on the Penguins entering the play-in, has them at a 36% chance after Game 3), and there's no room for error anymore. Even if they can come back and beat the Habs, they have a long road ahead of them that could begin with a matchup against the Presidents Trophy-winning Bruins in the first round. And then there's the Cup window. Crosby, Malkin, and Letang are firmly in their mid-30s now. John Marino, Jake Guentzel, and Bryan Rust have done their best to keep this team a contender, but the Penguins are finally at the point where each serious kick at the can could be their last. They simply do not have enough road in front of them to risk it all to preserve the reputation of one of the worst defencemen in the league. Enough is enough. Get this guy out of the lineup.