Discover more from JFresh's Newsletter
Analytics-based hockey analysis using visualizations
Over 5,000 subscribers
Marc-Andre Fleury is the Most Overrated Goalie of the Cap Era
He belongs nowhere near the Hockey Hall of Fame.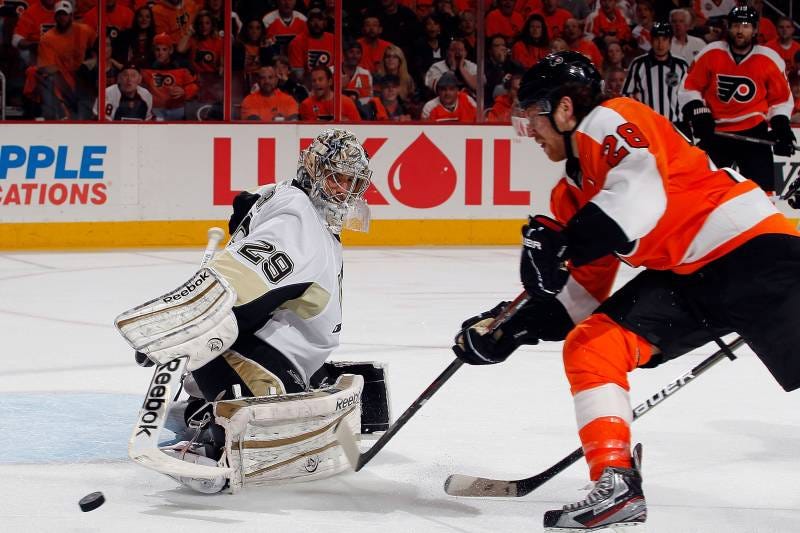 (This post originally appeared on my Patreon in mid-April)
The NHL's All-Decade starting goalie. NHL.com's 12th ranked goalie of the expansion era. Surefire Hockey Hall of Famer according to Sportsnet, the Hockey News, and just about everyone else. 3rd best in the league according to the NHLPA and 6th best according to NHL.com. Marc-Andre Fleury has piled up accolades in the past year. As he climbs the career wins chart,  it looks like his legacy has been established, and he'll go down as one of the best goalies in NHL history. But why? Stats aside, how is someone who never finished higher than 4th in Vezina voting and never was a post-season all-star held in such high esteem?
Well, he shouldn't be. Fleury has had an impressive career and accrued a sizeable trophy case. But his accomplishments have been almost entirely on the backs of his teammates, his single season of top notch play dwarfed by years of mediocrity. In the past two years it's become abundantly clear that Marc-Andre Fleury is the most overrated goalie of the cap era, and possibly of all time.
This piece will dive into the narrative that's emerged about him and his career since 2018, and then take a statistical look at why that narrative is wrong. It's clear that a single great season, his highly visible 2017-18 campaign with Vegas, has somehow negated a decade of poor play (in some cases historically poor play) and erased otherwise smart people's memory.
The Fleury Narrative
'Marc-Andre Fleury is a consumate winner. He has three Stanley Cups - more than any other goalie of the cap era - an Olympic Gold Medal, and finished first among all goaltenders in wins over the course of the decade, fifth all time. He's proven since he came to Vegas that the critics in Pittsburgh were wrong by establishing himself as an elite goalie. He has also been beloved by fans wherever he's gone.'
That's pretty much it. You would think that to argue that a goalie who was never even in the conversation for the Vezina and only led the league in a statistical catagory once should be in the Hall of Fame would take some work, but that's the end of it. His tumultuous thirteen seasons in Pittsburgh are reduced to a pile of wins and three Cups. His time in Vegas, which has been anything but consistent, is reduced to the 17-18 season. You don't even need analytics to to dismantle this narrative (although we're gonna use them anyway because they make the case against him even stronger).
Fleury has three Cup rings and an Olympic gold. But as the clock ticked down on those championships, Fleury was sitting on the bench for all but one. He faced 32 shots total in parts of 2 games of the 2016 playoffs. He faced zero in the 2010 Olympics. Even if we give him partial credit for the 2017 Cup (where he started until halfway through the Conference Final), his earned trophy case is half the size.
He has a lot of wins, but he's been in a unique situation among goalies. He played for a team in Pittsburgh that has not missed the playoffs since 2005-06, the longest active streak in the NHL. He then moved to a team in Vegas which has similarly put forward strong teams in each of their three seasons. It's not the 1980s anymore, and even the most old-fashioned hockey men recognize that wins are a function more of team success than the individual work of a goaltender. Fleury has benefitted from his team more perhaps than any other goalie this century.
So this narrative is misleading, and weak. But in places, it's just factually incorrect. That's where we can take advantage of the advances made in goaltending statistics since Fleury's career began.
The Statistical Case Against Fleury
Quick GSAx Explainer: The hierarchy of goaltending statistics has shifted over time. Wins are no longer the best unit of goalie measurement (although you wouldn't guess that based on some of the pro-Fleury arguments). Nor is Goals Against Average. Even save percentage, long the gold standard, can no longer be fully trusted because it fails to filter out the quality of chances allowed by team defences. For example, let's say that Team 1 allows 10 shots from the point and their goalie stops 9. Team 2 allows 10 shots from the slot, and their goalie stops 9. By save percentage, these goalies are equal (0.900), but goalie 2 clearly had the harder job. To address this, we use a stat called Goals Saved Above Expected (GSAx) which compares the number of goals a goalie allowed to the number of goals they would be expected to allow based on the quantity and quality of shots they face. These expected goals are measured by sophisticated models that assign each shot an expected goal value based on historical rates of similar shots going in -  so if a shot from the top of the circle goes in around 4% of the time, its xG value is 0.04. So goalie 1 would have a lower GSAx than goalie 2, and we could correctly observe that goalie 2 performed better.
The more sophisticated pro-Fleury case is that look, he wasn't an elite goaltender for most of his career, sure he had a few bad playoff rounds, but overall was consistent enough and got enough championships to earn all-time great status. These people say that maybe his save percentage wasn't great in Pittsburgh, but hey, those teams weren't known for their great defence anyway. Plus as soon as he came to Vegas, he was elite, so clearly it wasn't his fault. 
First of all, let's see the situations that Fleury has been fortunate enough to be a part of. The Penguins and Golden Knights have both boasted excellent skater groups in his times with those teams. In 11 out of the past 13 seasons, he played behind a top-ten group of skaters, including 7 top-five groups. It's easy to see where all of those wins came from; there might not be a goalie in recent memory who has been so fortunate. And what about the idea that those teams were poor defensively? The Pens got tagged with that label because they often played relatively unknown defencemen, but by the best way we have of measuring team defence without including goaltending - expected goals against per 60 minutes - the Penguins were always above-average (and top-ten six times) defensively when he was their starter. In Vegas, he has never known defence worse than 9th in the league.

Secondly, let's dig into Fleury's own stats. We can see clearly that the narrative above isn't true, and that Fleury was not only not elite in Pittsburgh, but varied between mediocre and downright terrible for his entire career there. We don't have analytical data for his first few seasons (which wasn't anything to write home about in terms of Sv%) but we can assess the relevant parts of his career:
This graphic shows Marc-Andre Fleury's starter rank in Goals Saved Above Expected per sixty minutes in every regular season and playoffs since 2007-08. In the regular season, he is compared to the top 31 starters in the league by TOI, and in the playoff it's the top 16. Looking over his entire career, a couple things become immediately clear.
Fleury was an above-average starter once in eight seasons as the starter in Pittsburgh. This is accounting for Pittsburgh's team defence - which as mentioned above was never worse than 14th in the league and frequently top-10 when Fleury was the starter. 

Fleury was the 22nd best starter or worse in five of his eleven seasons as a starter. Not only was Fleury often not elite, he was abjectly bad in almost half of the seasons he was a starting goaltender. 

From 2009 until 2013, he was consistently one of the worst playoff goalies in the league. This included four consecutive bottom-4 performances. 

Fleury had one top-5 regular season (2017-18) and three top-5 playoff runs. Two of those, to his credit, were trips to the Cup final while one was a 5-game loss in the first round. 
With no flowery narratives to hide behind, it's immediately clear what the actual story of Marc-Andre Fleury's career is:
Marc-Andre Fleury is one of the most fortunate goaltenders in NHL history. For a decade with the Penguins he alternated between being average and being one of the worst goalies in the league. He put together one of the worst stretches of playoff goaltending the NHL has ever seen, probably at the cost of at least one deep playoff run for the Pens. He won three championships from the bench, including an Olympic Gold Medal. Be he was also good at the right times for people to remember him fondly. An otherwise poor 2009 run is erased by an iconic dying-seconds save. A similarly inconsistent 2017 performance is dwarfed by a game 7 shut-out. And a whole decade and a half is negated by a superb campaign in 2017-18 with the Vegas Golden Knights, which was immediately followed by a return to mediocrity.
Fleury's Hall of Fame legacy is defined by two game 7s and one spectacular season. He hasn't been a clutch goalie, as evidenced by his appalling playoff record, but he has had a knack for performing well at the exact right moments for otherwise smart hockey people to completely ignore everything else. He should not be considered one of the best of all time, or even of his era. But that's not how he'll be remembered, as evidence by the accolades he's already receiving for his career. Which is why he's the most overrated goaltender of the cap era - and maybe one of the most overrated in NHL history.