Picking the 2019-20 Selke Trophy Winner Using Analytics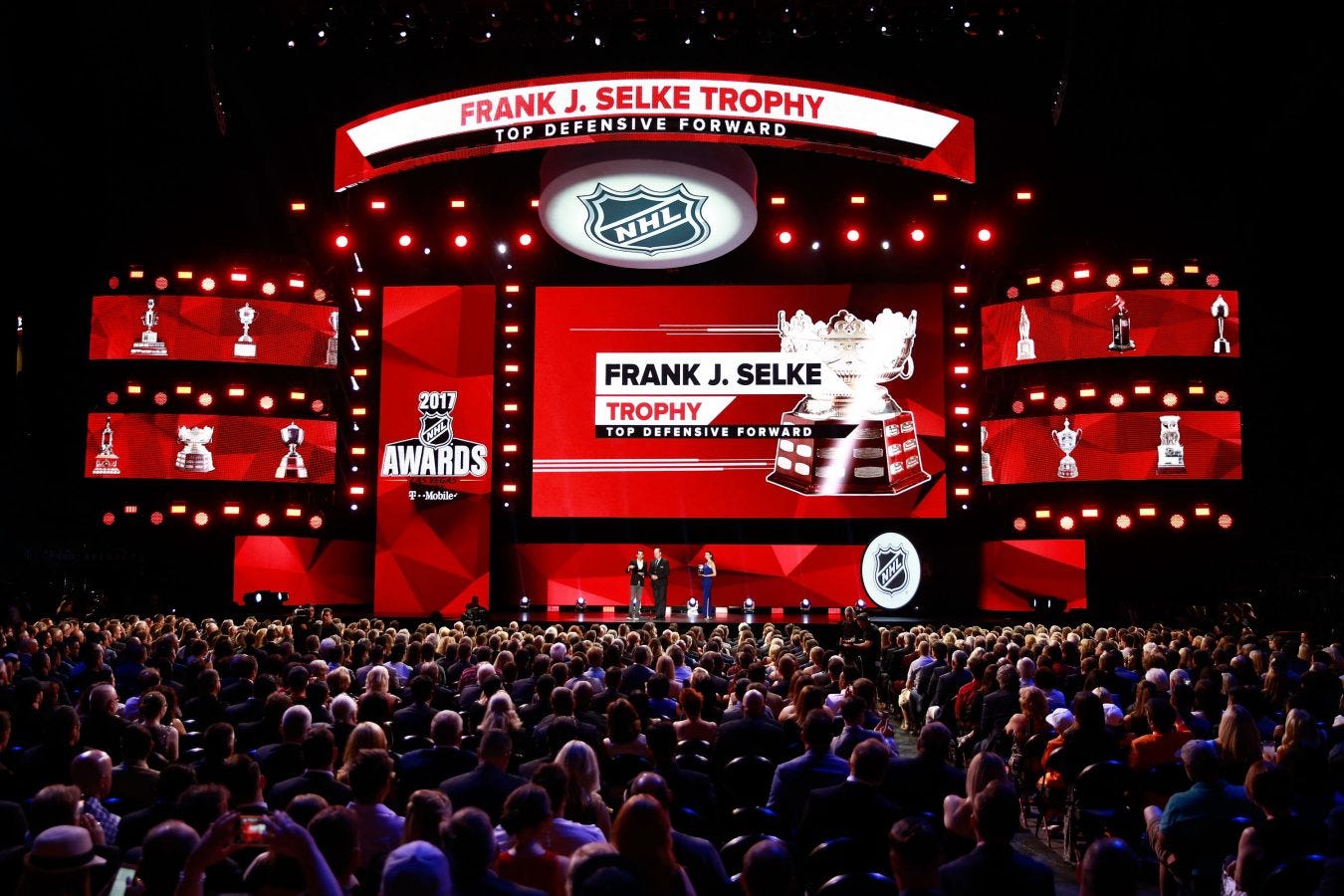 (This article was originally posted on my Patreon in early April)
The Selke trophy is very similar to the Norris - it judges defensive play, which is very difficult to assess comparatively, and it tends to be based more on reputation than actual performance. A lot of the time people tend to argue it should go to players who seem like they deserve it, regardless of whether they were truly the best defensive forward in the league.
Once again, I'm not happy to just sort by defensive WAR and call it a day (with apologies to Zach Aston-Reese). I think we get ahead of ourselves - and often make ourselves look pretty silly - when we bestow major awards to guys who don't play a prominent role on their team. There are certain parameters that have been established for this award, and I'm going to follow them.
The winner must play top-six minutes.

The winner must play >1 minute of penalty kill time per game.

The winner must have played at least 60 games this season.
That gives us a pool of 46 players to draw from. When assessing these guys, there are a few stats I actually care about:
From Evolving-Hockey
Expected goals against RAPM (xGA) - Shows how good a player was at suppressing shot quality and quantity, adjusted for context.

Corsi against RAPM (CA) - Shows how good a player was at suppressing shot attempts.

EVD Goals Above Replacement (EVD GAR) - Measures even strength defence in a single number.

PK Goals Above Replacement (PK GAR) - Measures penalty kill defence in a single number
From PuckIQ
Minutes played against top competition
I don't care about faceoffs, which have no statistical correlation to defensive success. I'm also not using microstats for a specific reason - defence at its core is about preventing your team from facing quality chances against and giving up goals. If you are not having a strong on-ice impact on that but you have good takeaway numbers, I don't think you were a good defensive player this year. 
Who's Not on My Ballot
Sean Couturier: Couts had an uncharacteristically poor defensive season, and was a negative on the penalty kill. This might be the year he finally gets his "reputation" trophy though, but he deserved it more a few years ago.

Patrice Bergeron: Despite strong EVD goals above replacement numbers, his xGA and CA numbers are only good this year, not elite. He's still a top tier two way forward, but just doesn't crack the top three for me.

Aleksander Barkov: Barkov has nice microstats but his on-ice defensive impacts were appalling this season. He doesn't belong anywhere near this award until he can start to bolster his stick checks and puck battles won with strong positional play that protects his goalies from good chances against.
Honourable Mentions:
Didn't Play Enough Games: Tomas Hertl - C, San Jose Sharks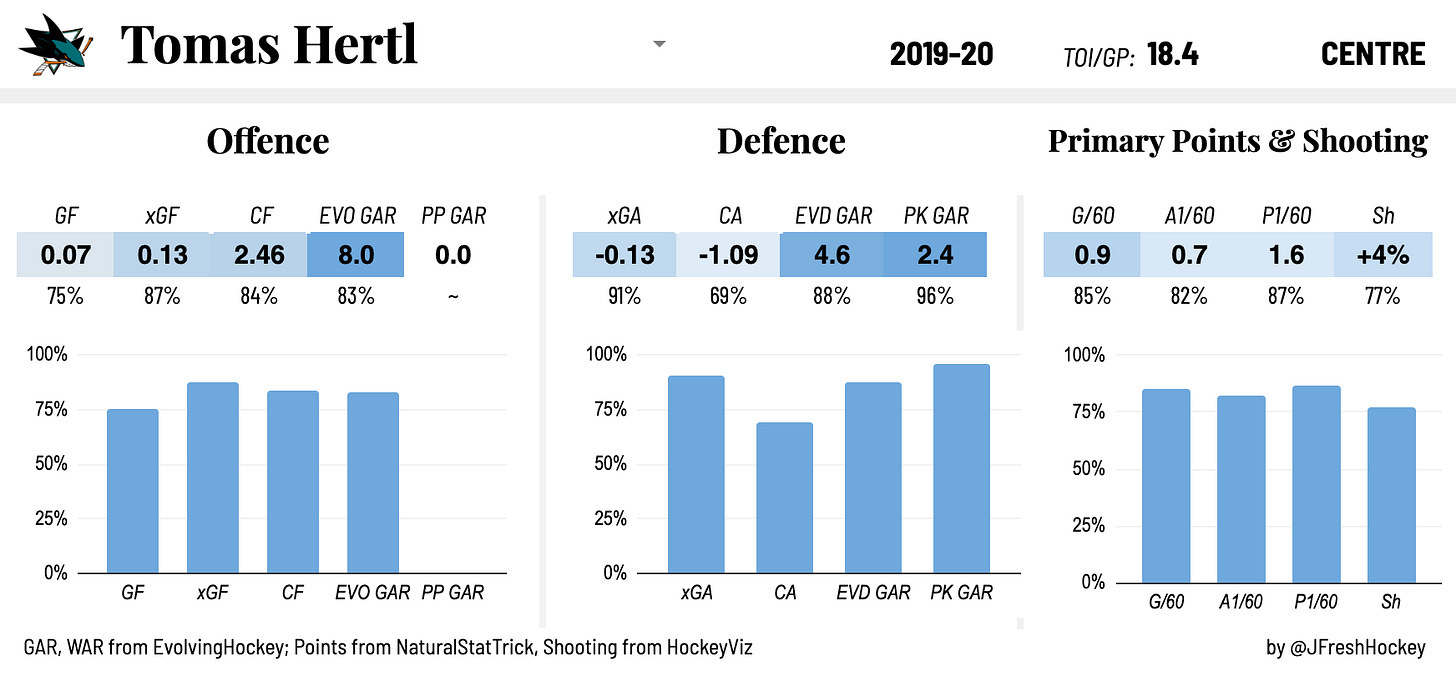 Hertl's injury kills his shot at the trophy, but he was superb defensively this season. He was an elite contributor to the league's best penalty kill and a top notch suppressor of quality scoring opportunities. On top of that, he grades out very well in terms of both offence-driving and production rates. He'll be one to watch for this award next season.
Didn't Play Enough Minutes: Zach Aston-Reese - LW, Pittsburgh Penguins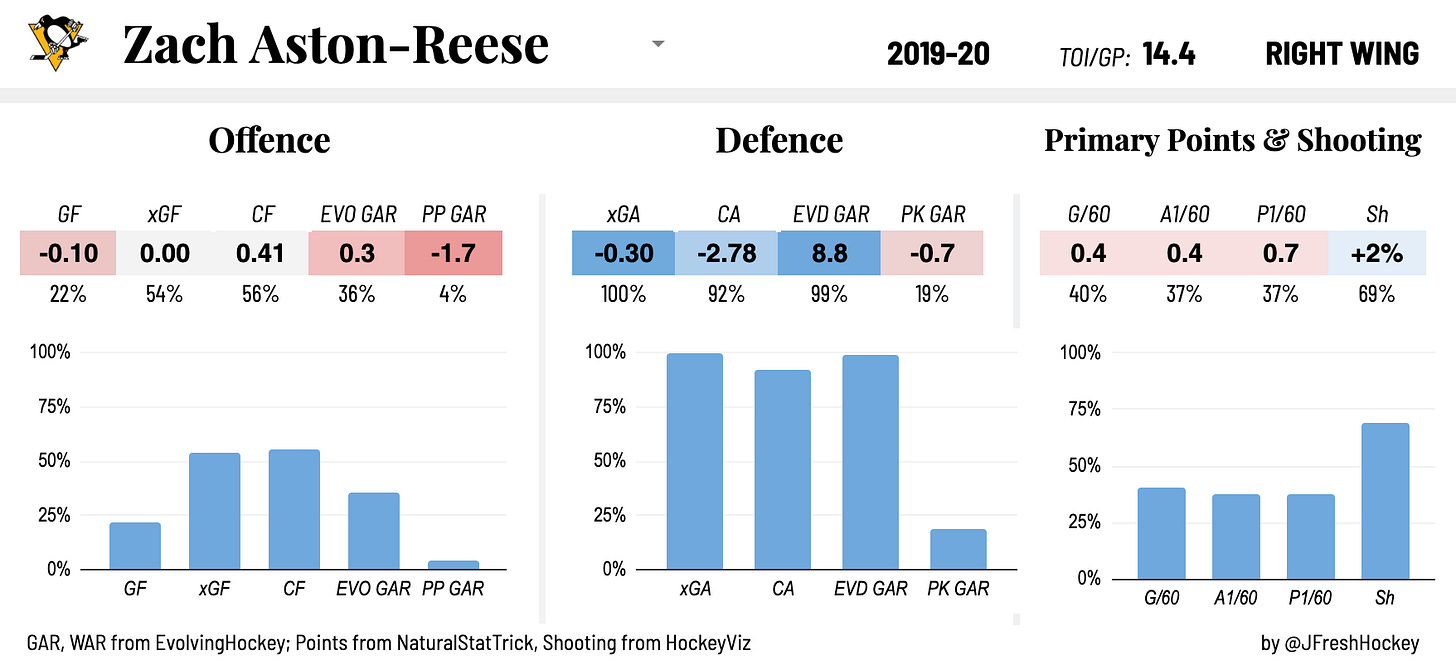 No NHL forward had the even strength defence goals above replacement that the little-known Penguins fourth liner did. Aston-Reese was the crucial piece behind the league's best defensive line, preventing quality chances better than any of his peers. For this, he's gotten some Selke love from analytics-savvy writers and commentators, which I'm happy to see considering that hostility most Penguins fans have towards him for not being speedy. However, his limited role sadly relegates him to the HM coloumn for me.
Didn't Play Enough Penalty Kill: Gabriel Landeskog - LW, Colorado Avalanche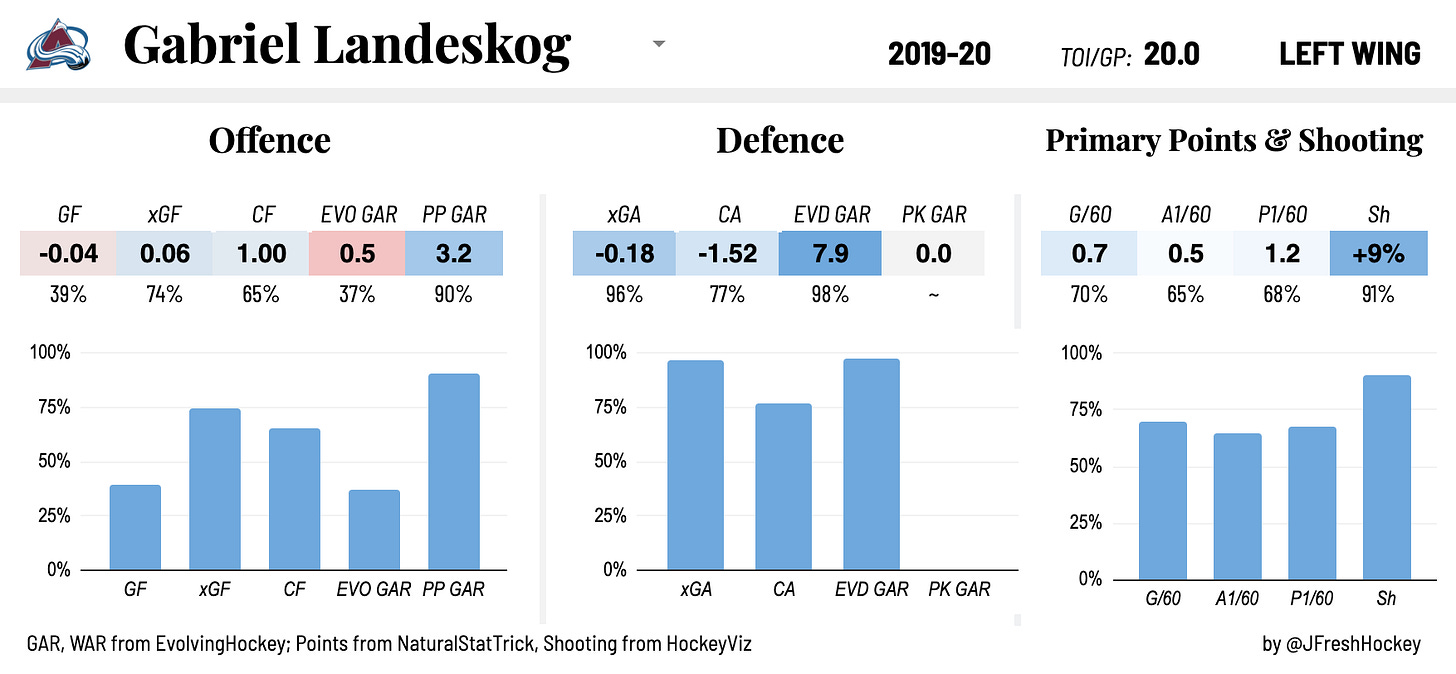 Landeskog doesn't get enough love for his defensive abilities, but among forwards who play a big role on their teams he's one of the best at it. He's a superb suppressor of quality chances, quite good at preventing shot attempts, and ranks as the third best defensive forward in the NHL by goals above replacement in 2019-20. Unfortunately for him, he's not used on the penalty kill by his coach, which means he doesn't make the cut for me. Is that unfair? Maybe, and if you think it's an arbitrary criteria then he's your guy.
The Nominees
3. Anthony Cirelli - C, Tampa Bay Lightning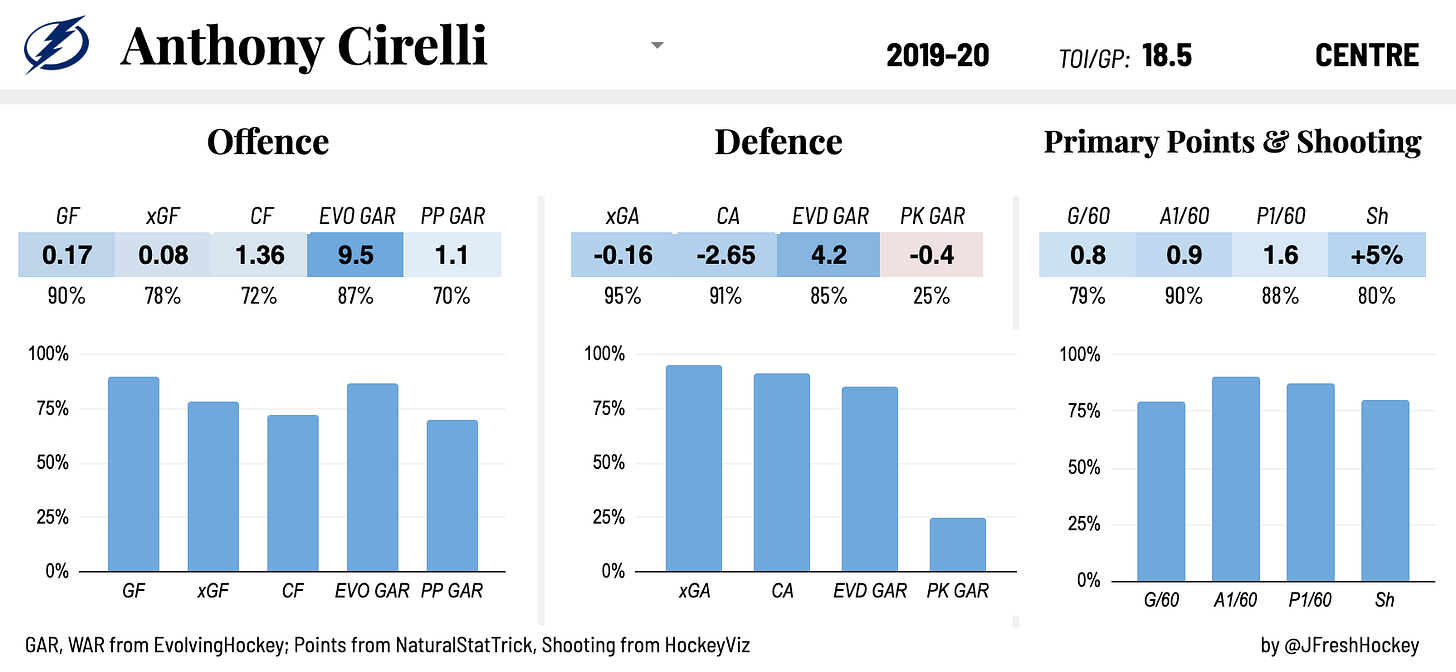 People are finally starting to take notice of Anthony Cirelli, at just about the worst time for the Lightning (should be a fun contract negotiation). He's a prototypical two-way centre, productive and playdriving on offence while being stingy defensively. He's an elite quality chance preventer who doesn't allow teams to get into his zone - even adjusted for the already-powerful Tampa Bay team defence. Cirelli isn't a very good penalty killer, but he is burdened with more time in that role than anybody on the candidate list. He's one to watch, and it wouldn't surprise me if he wins this award in the next few years (true to voters' form, it'll probably be two years after he deserves it).
2. Ryan O'Reilly - C, St. Louis Blues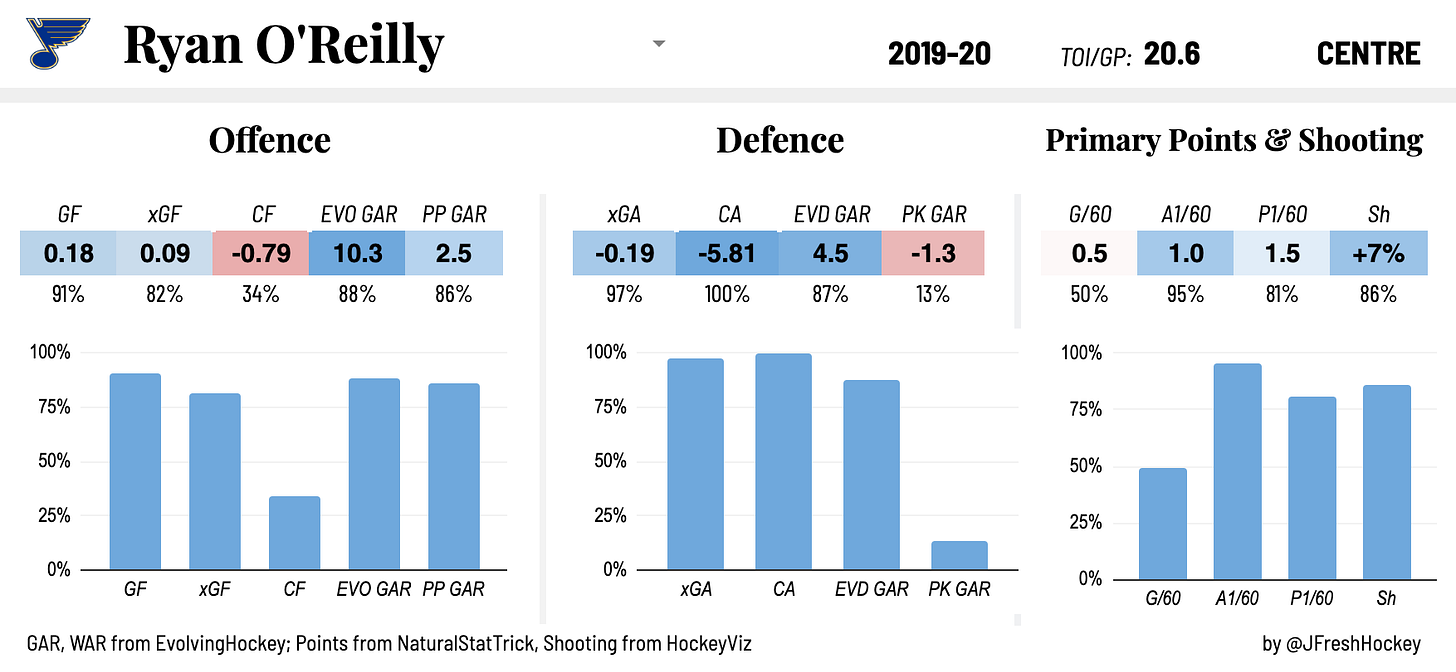 Ryan O'Reilly has established himself as the league's top two-way centre since he came to St. Louis, with a Selke and Conn Smythe now in his trophy case. There's a very strong argument to be made for him going back-to-back: aside from his very strong even strength numbers, of our candidates O'Reilly played the most minutes and the most minutes against top competition. He's by far the best forward of our group at suppressing shot attempts, and he's elite in terms of shot quality as well. His only issue is that he was an awful penalty killer this year, and while I don't weigh that as highly as even strength play, it isn't nothing. For that reason he slips to number two on my ballot.
1. Blake Coleman - LW, Tampa Bay Lightning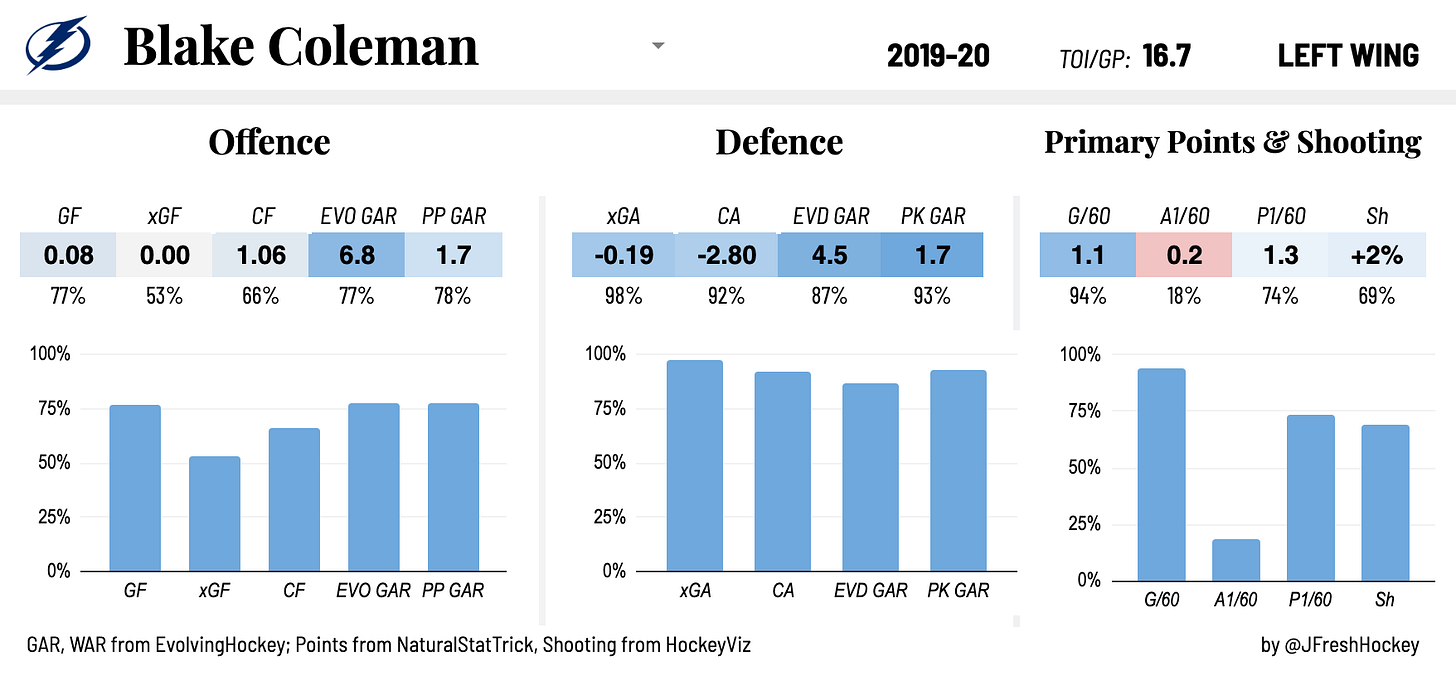 It was a hell of a breakout season for Blake Coleman. His dual effectiveness at even strength and on the penalty kill is unmatched by our candidates here, and his underlying defensive numbers are even better. Coleman is a top expected goal suppressor, preventing his opponents from getting shot attempts and keeping them to the perimeter when they do. Coupled with excellent goal scoring, Coleman has suddenly emerged as a dangerous two-way player and well worth the 1st round pick the Lightning paid for him. He was the NHL's best defensive forward this season, and deserves the Selke trophy.