Discover more from JFresh's Newsletter
Analytics-based hockey analysis using visualizations
Over 5,000 subscribers
Presenting the 2019-20 NHL Anti-Awards
Worst Defensive Forward, Least Valuable Player, and lots more.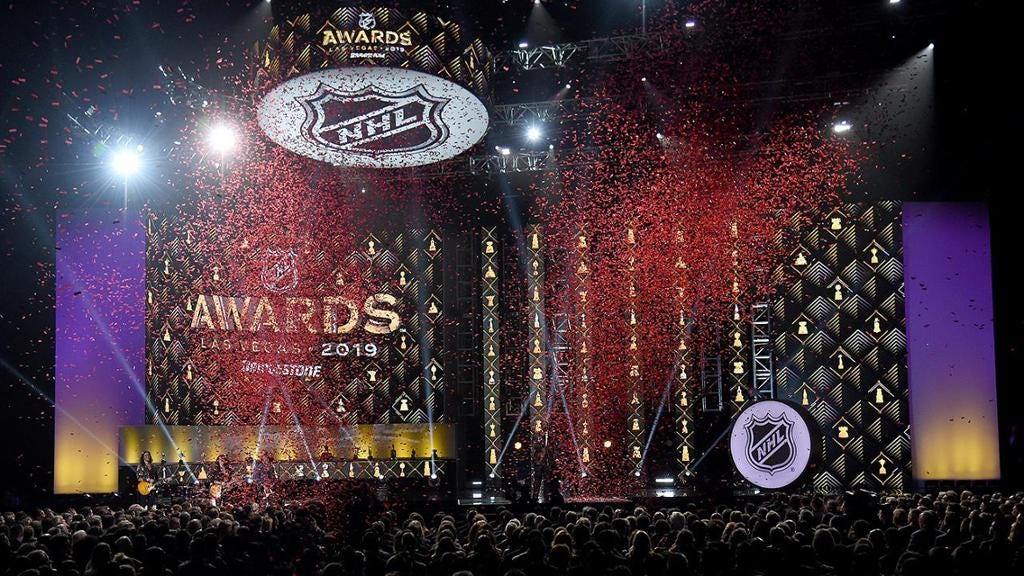 With the regular season done, now is the time to celebrate the incredible performances we were lucky enough to witness. It's also the time for writers (myself included) to oversaturate the hockey media with dozens and dozens of awards articles, and for fans to temporarily ruin Twitter by screaming at eachother about potential nominees for days on end.
But I think there should also be space to acknowledge the worst performances of the 2019-20 season, and that's what I'm going to do. Using a bevy of advanced stats from sources like EvolvingHockey and HockeyViz, I'm going to go through the NHL Anti-Awards - the opposite version of every major trophy up for grabs. Let's go.
(If any of the players I chose are guys on your favourite team who you like, it was a typo)
Anti-Calder Trophy:
Worst Rookie of the Year
Winner: Kappo Kakko - RW, New York Rangers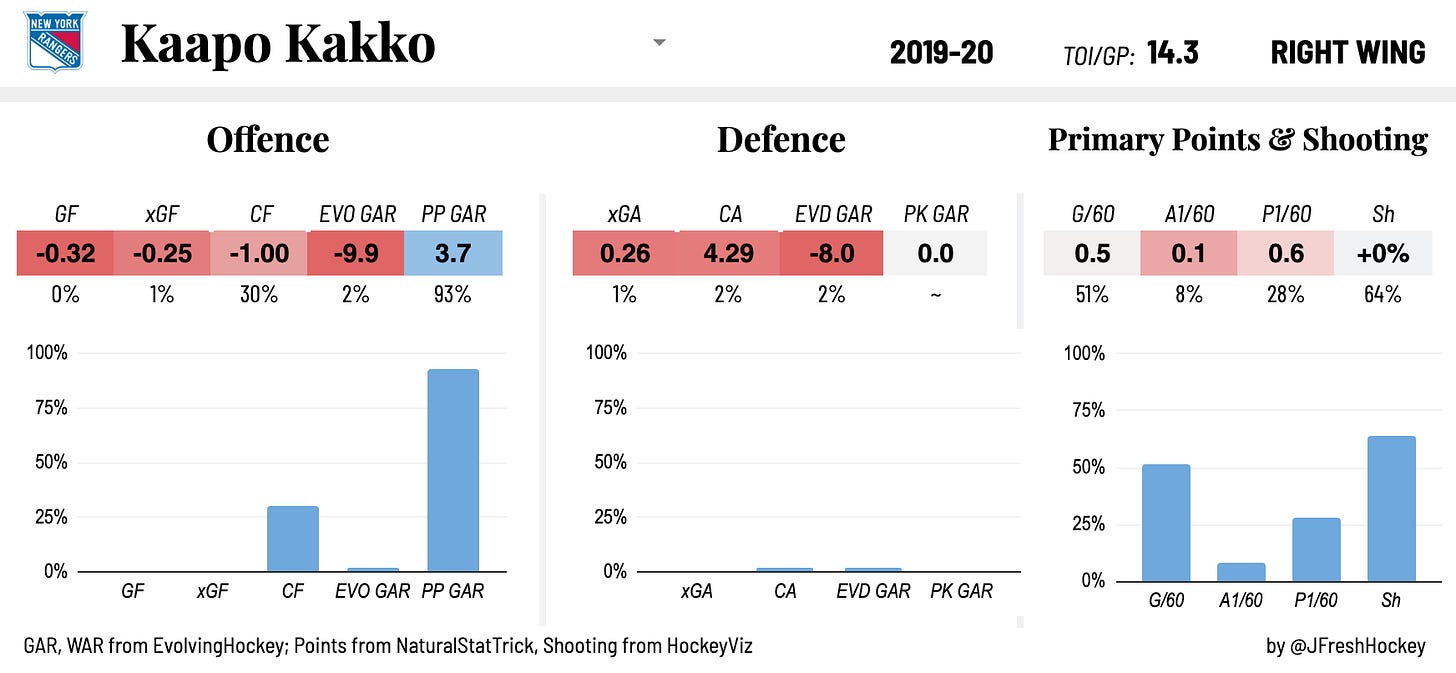 Kaapo Kakko was supposed to win the real Calder Trophy this year, or at least compete for it. Instead, he put up the worst 18-year old season of the analytics era (2007 onward). One might have expected a skilled rookie forward to struggle defensively in his first season, but Kakko's absolute incompetence offensively was an absolute shock. He was one of the worst players in the league in terms of his isolated impact on goals for, expected goals for, expected goals against, Corsi against, and was a massive minus player at both ends of the ice at even strength. He wasn't just the worst rookie in the league, he was the worst forward in the league. Great on the powerplay, though!
Dishonourable Mentions: Jesper Boqvist, Ryan Poehling
Anti-Lady Byng Award:
Most Penalty-Takingest Player
Winner: Evander Kane - LW, San Jose Sharks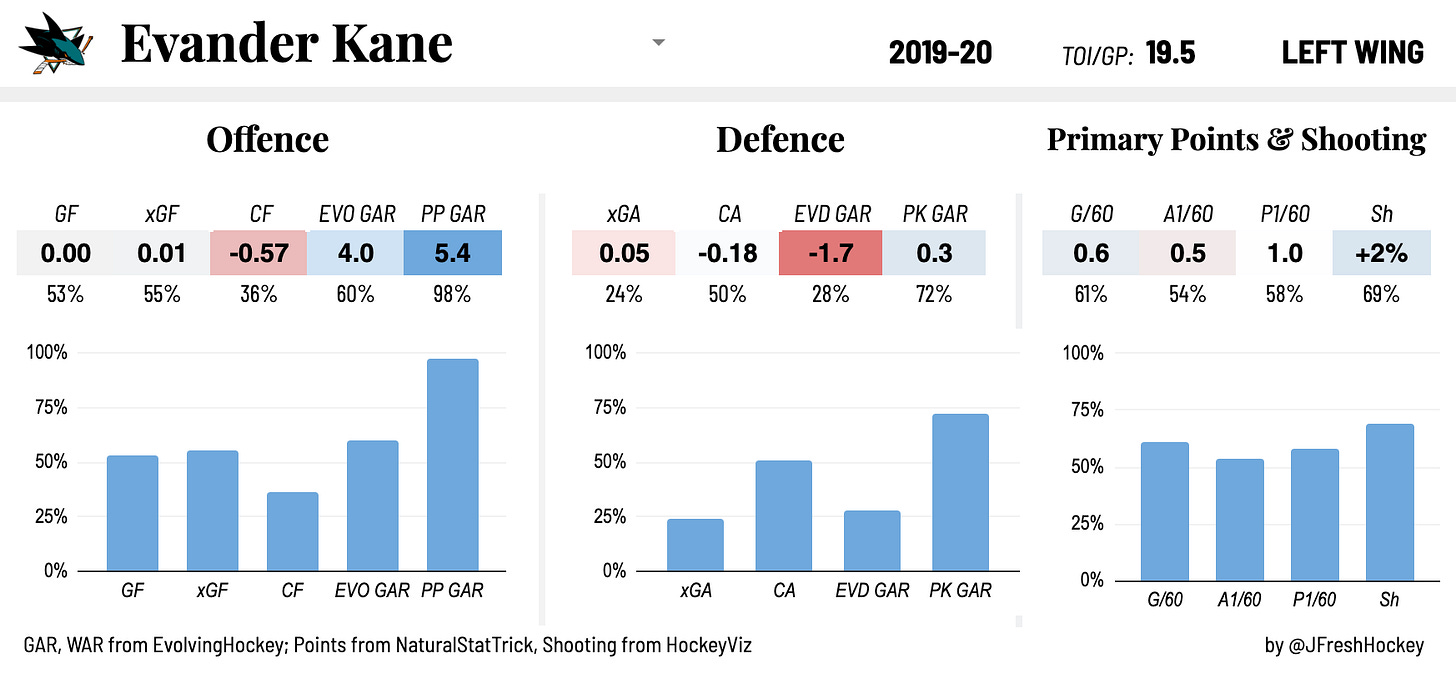 Evander Kane is doing some really great stuff off the ice. He's also a pretty effective player, especially on the powerplay. What he's not good at is avoiding taking penalties. No player cost his team more through penalty-taking this season, and it wasn't even close. Kane's penalty taking goals above replacement was -3.2, a full goal worse than the second place finisher. Fortunately the Sharks penalty kill was really strong this season - maybe thanks to the extra practice they get because of Kane.
Dishonourable Mentions: Lars Eller, Blake Comeau
Anti-Selke Award:
Worst Defensive Forward
Winner: Patrick Kane - RW, Chicago Blackhawks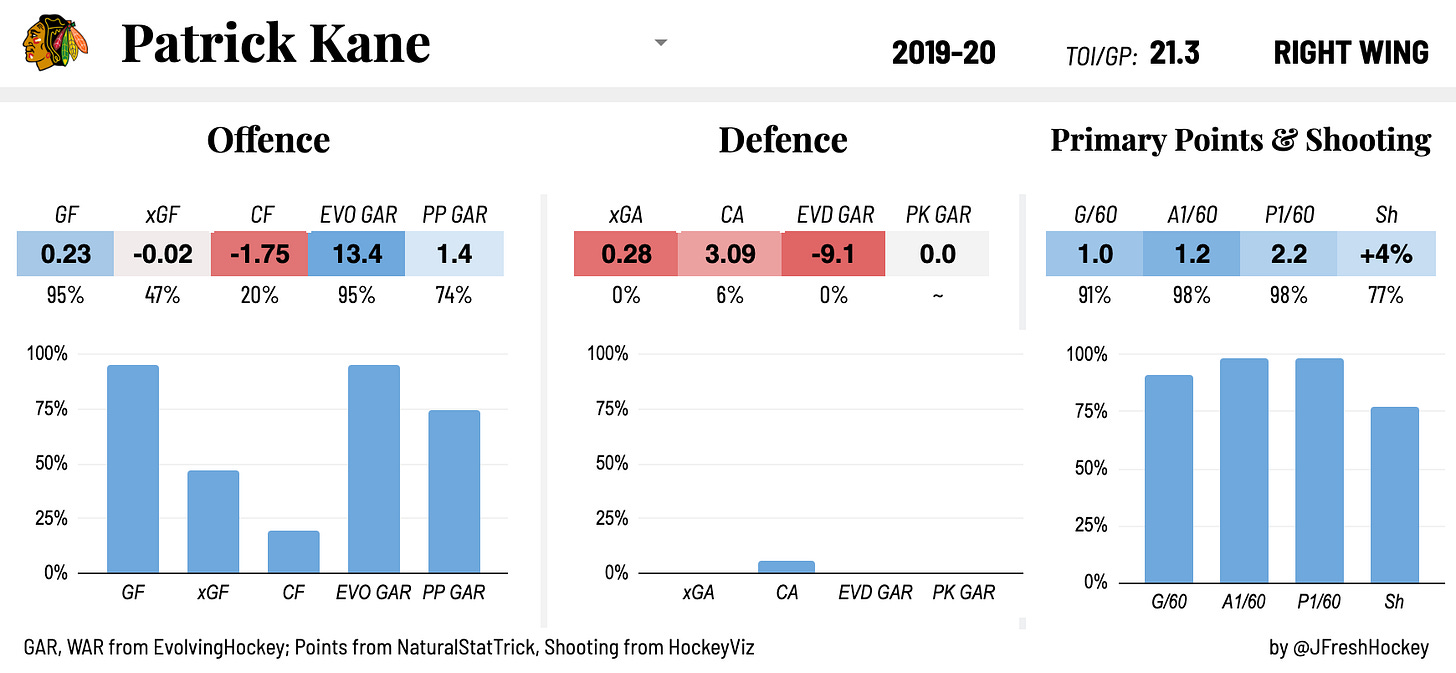 Patrick Kane is one of the iconic superstars of the 2010s, an immensely talented offensive player and one of the best playmakers of all time. He's also really really bad defensively, 4th worst among forwards in defensive WAR since he entered the league. And this year was truly his masterpiece, by far the worst defensive season of his career. No forward in the league had the impact that Kane did on exposing his goaltenders to high quality scoring chances against, magnified by his high time on ice. To put it into perspective, Kane's defensive play this season was so bad that over the course of an 82 game season, it was projected to cost the Blackhawks over three points in the standings.
Dishonourable Mentions: Kyle Connor, Kaapo Kakko
Anti-Richard Trophy:
Worst Goalscorer of the Year
Winner: Patrick Russell - LW, Edmonton Oilers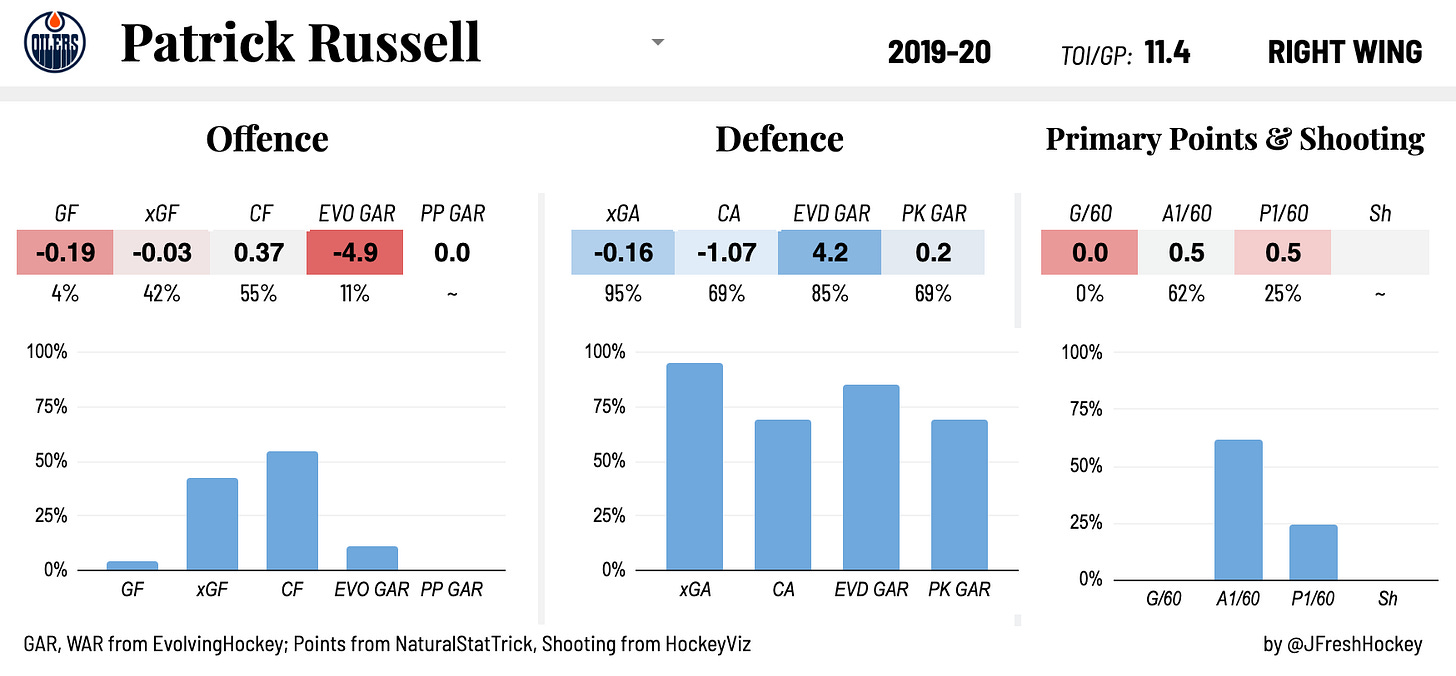 Patrick Russell played 45 games for the Oilers, took 58 shots, and accrued 6.4 expected goals this season. He scored zero goals. It takes a true combination of talent and bad luck to not even score a goal by accident with those numbers, and as a result he is truly deserving of this award.
Dishonourable Mentions: Justin Abdelkader, Jay Beagle
Anti-Adams Award:
Worst Coach of the Year
Winner: David Quinn - Coach, New York Rangers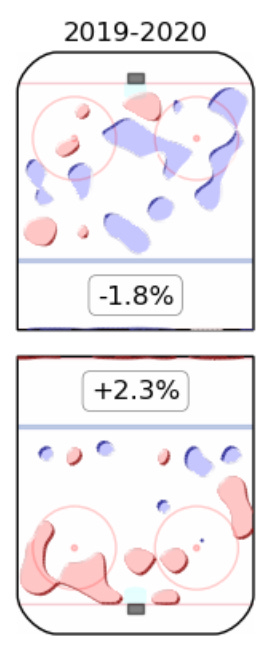 Coaching analytics is a murky field, and I still can't 100% wrap my head around them. The only thing we really have to go on is Micah McCurdy's coaching isolates, which from my understanding treat a coach as though they're a player who's always on the ice to determine their impact on offensive and defensive threat generation. One issue is that they might end up blaming a head coach for the work of an incompetent assistant who focuses on forwards/defencemen. That aside, David Quinn fared by far the worst by this measure this season. According to the isolates, the Rangers ran the worst defensive system in the league and the third worst offensive system, dependent entirely on the work of stars like Panarin, Zibanejad, and Fox to prop the team up. This is much less definitive than the other awards, but worth mentioning.
Dishonourable Mentions: Rick Tocchet, Bob Boughner
Anti-Montgomery Trophy:
Worst GM of the Year
Winner: Dale Tallon - GM, Florida Panthers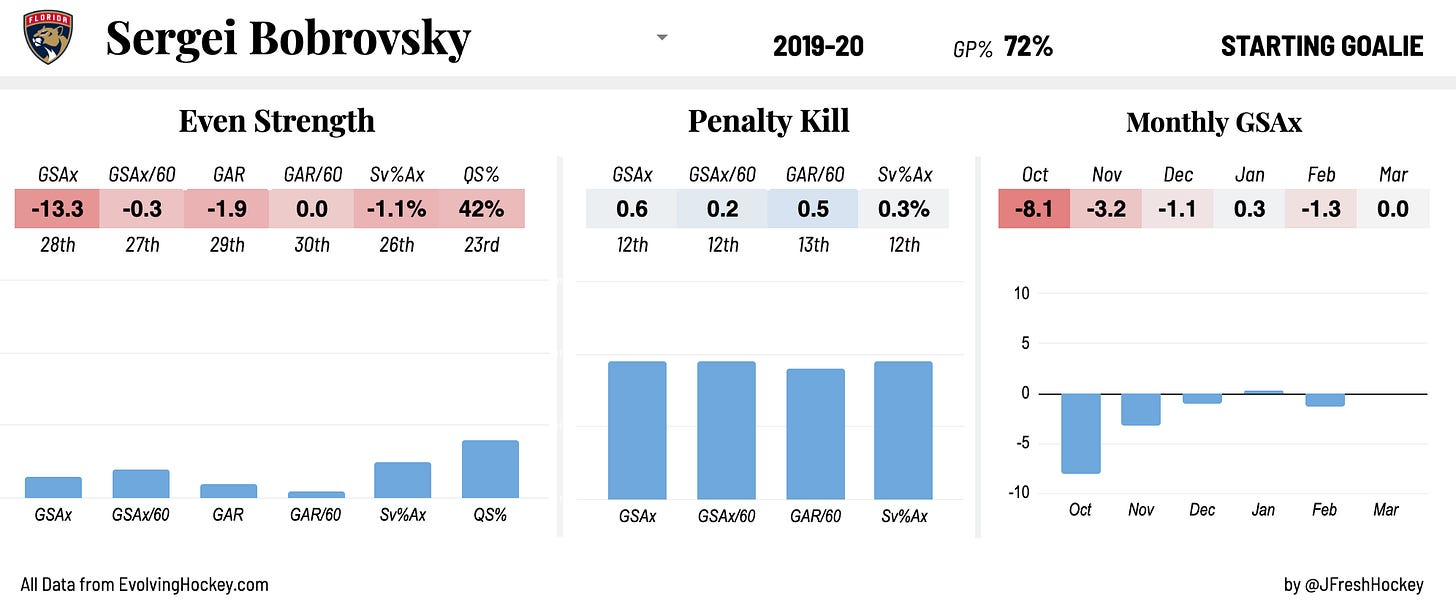 I don't have a pretty visualization for GMs, and this is the most subjective category by far. But the Bobrovsky contract is devastating and could hurt the franchise for years. Paying a declining Anton Stralman that much money wasn't exactly a great look either, and it felt like he sold low on Vincent Trocheck, but spending that much money on a goalie for that long is the kind of move that can fundamentally ruin a team's future.
Cheveldayoff receives a nomination for allowing the defence to look the way it did for almost a full season and for targeting Cody Eakin, while Botterill gets one for just general ambient incompetence (not trading Rasmus Ristolainen, for example) and the brutal Jeff Skinner extension.
Dishonourable Mentions: Kevin Cheveldayoff, Jason Botterill
Anti-Norris Trophy:
Worst Defenceman of the Year
Winner: Nikita Zaitsev - RD, Ottawa Senators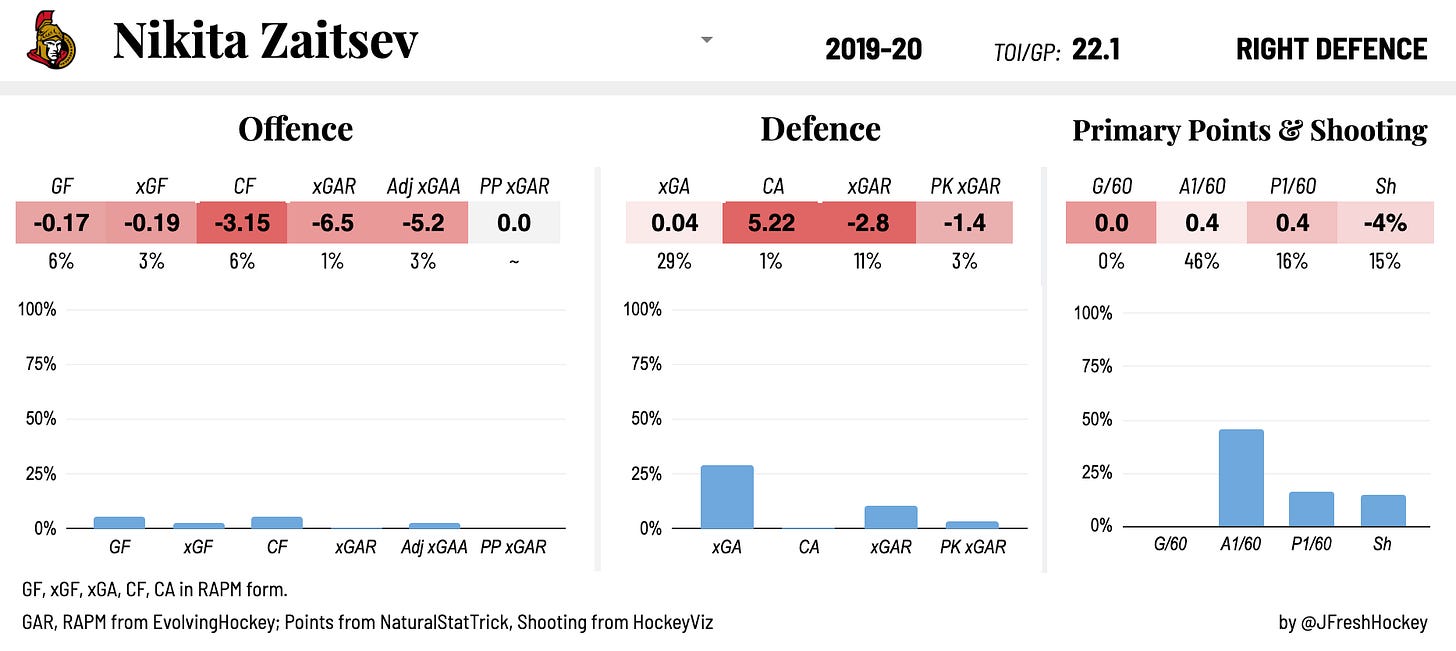 After a trade following post-extension struggles in Toronto, Nikita Zaitsev was supposed to turn things around in Ottawa. He was paired with Thomas Chabot and tasked with holding down the fort defensively and letting the young phenom play creative offensive hockey. Boy did he not do any of that. No defenceman had the overall negative impact that Zaitsev had for the Senators this season. He was abysmal at even strength and one of the league's worst penalty killers. In numbers adjusted to the quality of competition he faced (which wasn't negligible), he was still terrible. He also had a huge negative effect on Chabot, whose numbers vastly improved once they were separated. In a competitive field, Zatty stands alone.
Dishonourable Mentions: Jack Johnson, Madison Bowey
Anti-Vézina Trophy:
Worst Goalie of the Year
Winner: Matt Murray, Pittsburgh Penguins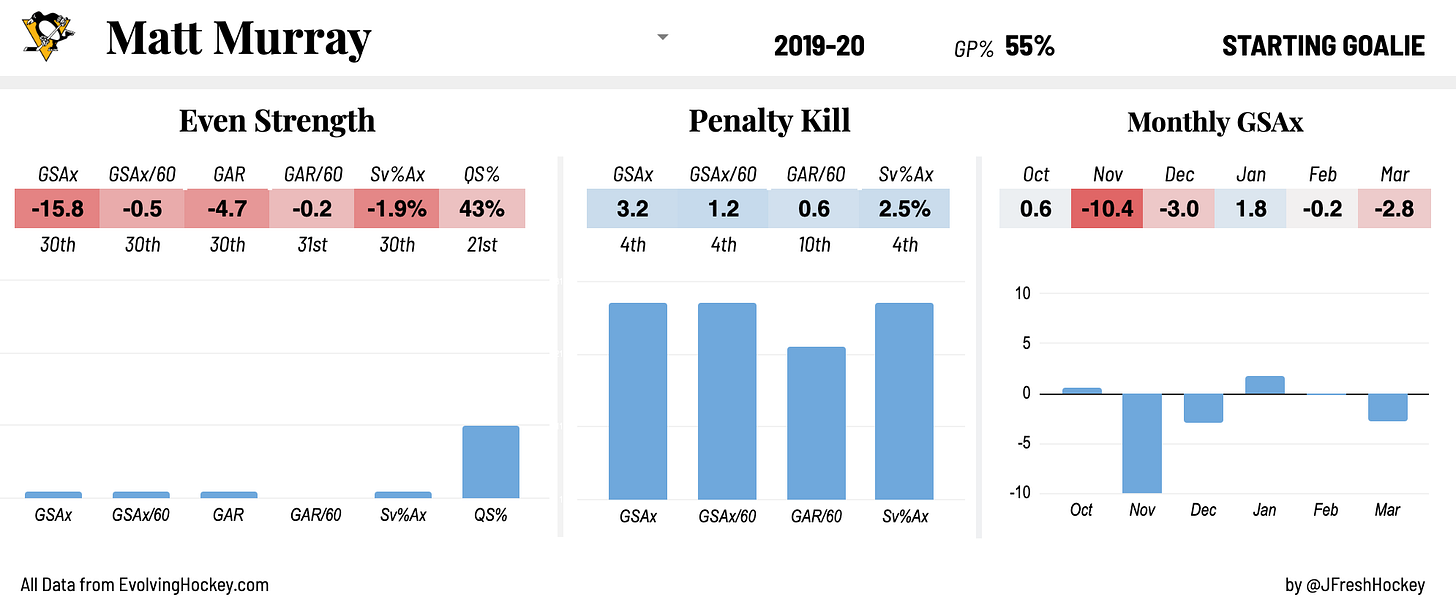 I know what you're thinking: yes, Jimmy Howard and Devan Dubnyk were worse this year than Matt Murray. But if a non-starter can't win the real Vézina, they can't win the anti-Vézina either. Murray was absolutely abysmal this season, and all the public models agree that he was terrible. He ranked last among starters in save percentage above expected among starters in MoneyPuck and CrowdScout's models, and only second-last in EvolvingHockey's. His stretch from November until he lost his net in December was the worst in the league this season. Even if things kind of improved after that, he was still a major negative in 2020. Good shorthanded play can only get you so far, and Murray's overall performance is evidence of that.
Dishonourable Mention: Braden Holtby, Sergei Bobrovsky
Anti-Hart Trophy -
Least Valuable Player
Winner: Jack Johnson - LD, Pittsburgh Penguins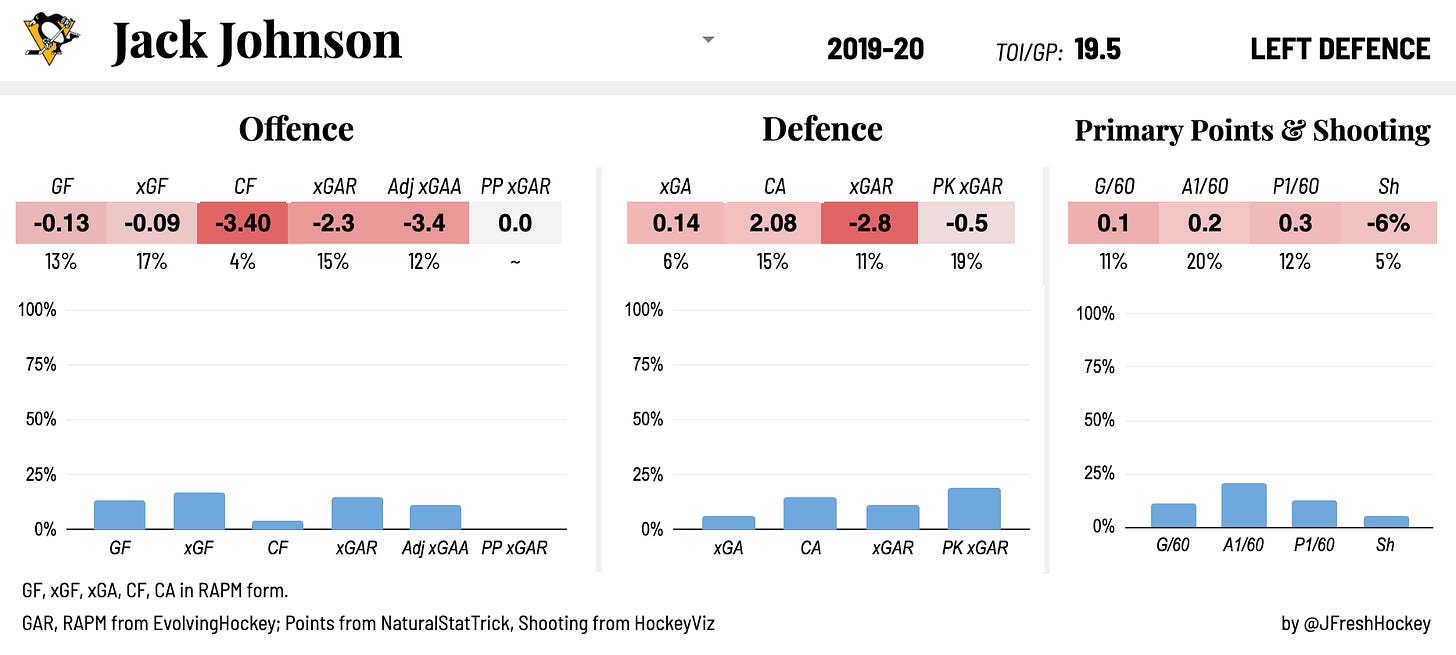 There were worse players in the NHL this year than Jack Johnson, some of whom I've discussed above. But nobody on an otherwise great team had the negative effect that Johnson did.
It's easy to look at Johnson's horrible results and how good the Penguins are to justify this choice. But to appreciate the true hideousness of Johnson's season, you need to look at the month of February, in which he was inexplicably played on the top pairing with Kris Letang. Prior to that month, the Penguins had been the 3rd best defensive team in the entire league. The Johnson - Letang pairing had a shocking 38% expected goals for percentage and a 31% goals for percentage. Because it was the top pairing, they played about half of their even strength time with Sidney Crosby (97 minutes). In that time, the unit had a 31% xGF% and a 12% GF%. Without them, Sid was his usual dominant self that month, above 60% in both categories. The team won five of thirteen games that month, falling from 3rd in the league to 7th, and was overtaken by the Philadelphia Flyers. As a result, they now have to win a play-in game to make the playoffs. If they lose (and they have at least a ~38% chance of losing) and miss the playoffs for the first time since 2006, it will be because of Johnson's play in February.
No player was less valuable to his team.
Dishonourable Mention: Kaapo Kaako, Phil Kessel
NHL All-Definitely Not Stars Teams
Finally, let's finish things off by celebrating some of the year's worst performances: