Breaking Down the TSN Trade Bait List Using Analytics (Part I)
Looking at Matt Murray, Patrik Laine, and more.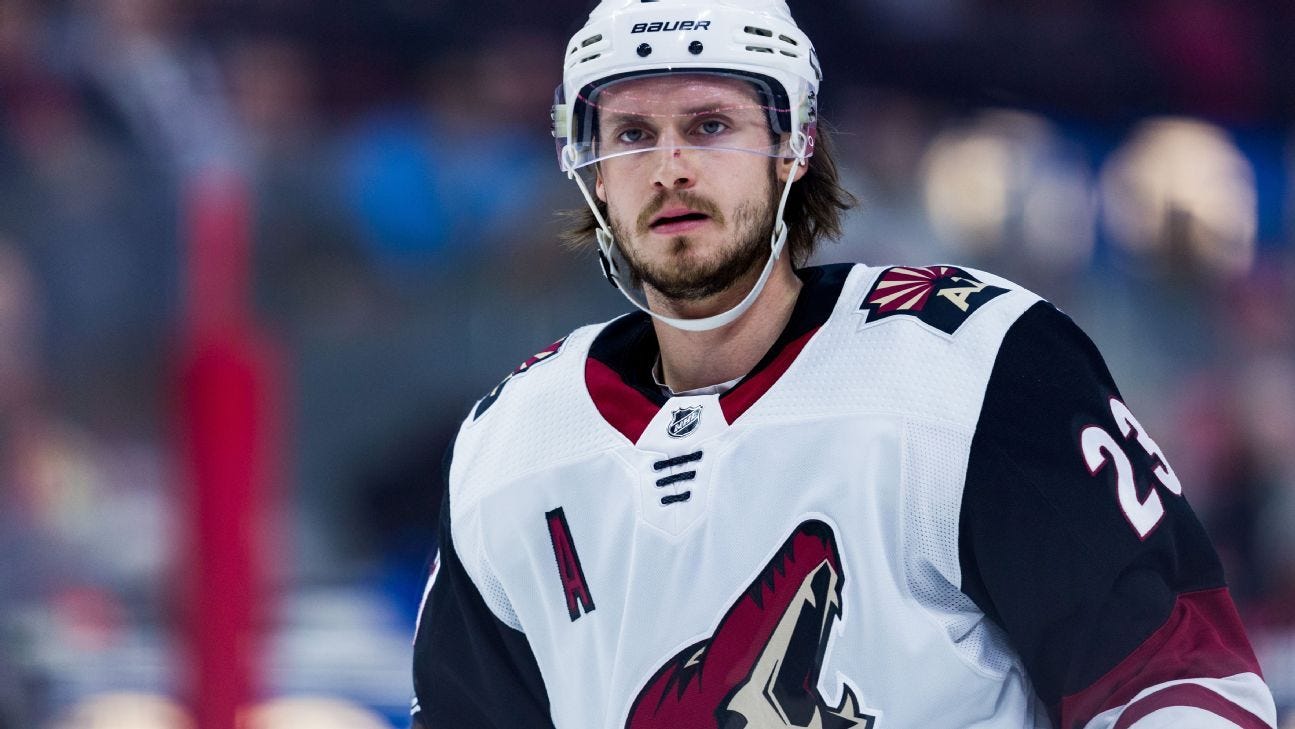 Apparently we've just decided to skip ahead to the offseason this year. Kasperi Kapanen and Jake Allen have both been traded, rumours are all over the place, and fake trade-breaking Twitter accounts are thriving at near-February levels again. To add some structure to the madness, TSN has updated their Trade Bait list for the first time since the deadline, giving all of us the chance to speculate wildly about many guys who aren't gonna end up being moved (and maybe a couple who are) - as is tradition.
In this series of posts I'm going to run through the trade bait list from top to bottom, breaking down the players using analytics, giving my opinion on whether or not they should be on the block, and speculating on some teams that could be a good fit. The core stats I'll be using are RAPM isolates and Wins Above Replacement from EvolvingHockey, but I'll also be looking at microstats from Corey Sznajder and player deployment from Dobber. Please keep in mind that I have zero inside information at all, and any matchmaking here is fully uninformed.
1. Matt Murray - G, Pittsburgh Penguins
No big surprises here. The two-time Stanley Cup champion had a horrendous season (culminating in his winning my Anti-Vézina Trophy for worst starting goaltender) and despite the fact that Tristan Jarry is an unproven commodity, it appears that the Penguins have decided that enough is enough. Statistically speaking, as a starter Murray has one excellent season ('17), one average season ('19) and two poor seasons ('18 and '20) on his resume. While this type of inconsistency is far from unique, it does make it very difficult to figure out what exactly the acquiring team is going to get, what his RFA contract will look like, and what the Penguins can expect to get in return.
I think Murray would be a fine option for a rebuilding team like the Red Wings or the Senators - he's young, he'll be relatively cheap to sign, has demonstrated some upside, and is a pretty low-risk option. If he can turn it around in a lower-pressure situation, he could be a team's long-term starter; if not, no harm no foul. On the other hand, a playoff contender looking to address their perceived problems in net (like Calgary, Carolina, or especially Toronto) should be very careful about hinging their Cup dreams on him.
Does It Make Sense to Trade Him? Yes, the Penguins have two RFA goalies, a cap crunch, and the need to recoup some assets.
Who Should be Interested? Detroit, Ottawa, San Jose, Minnesota
2. James van Riemsdyk - LW, Philadelphia Flyers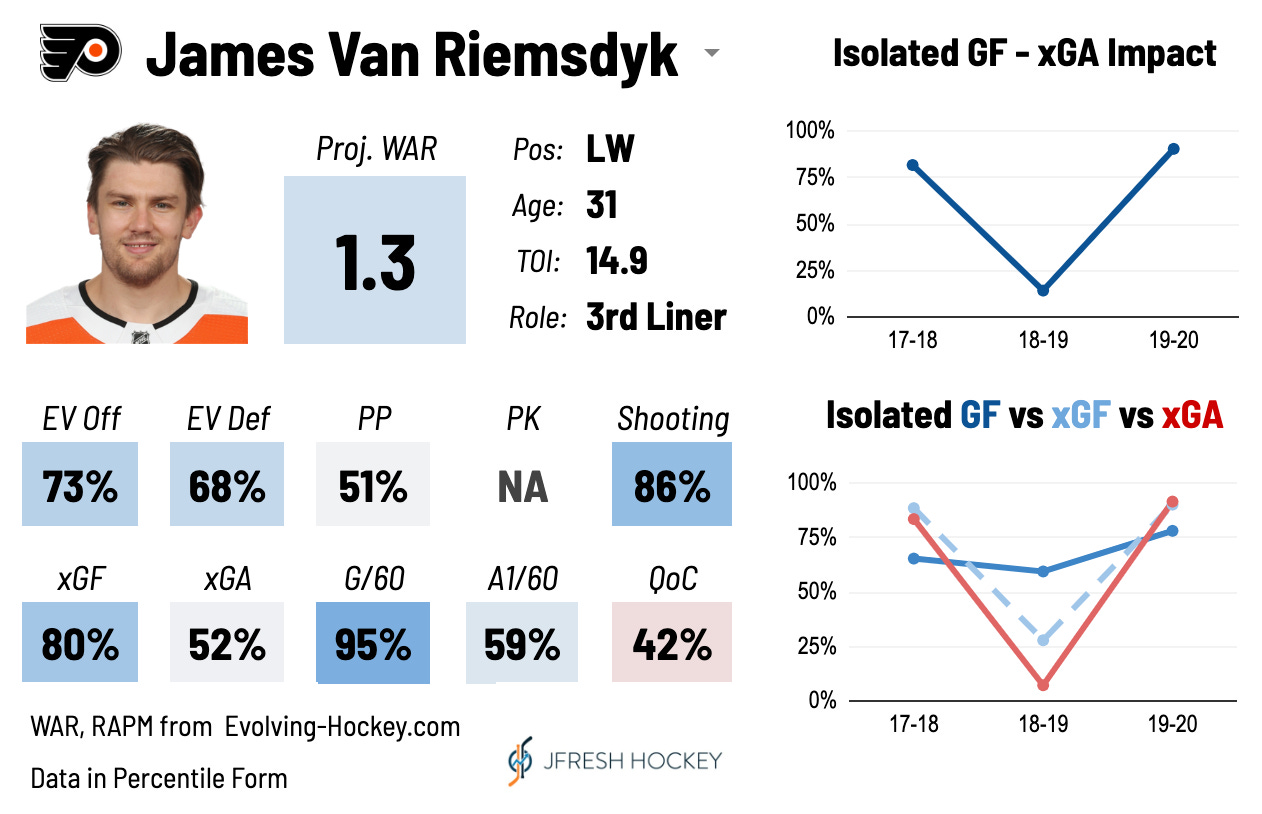 Were it not for his contract, JVR would profile as a classic buy-low/bad-fit target. An acquiring team can expect a strong net-front player who scores a lot of goals; in the past three seasons he ranks 27th in 5v5 goals with 50 and 12th in 5v5 goals per sixty minutes. But he's got three more years on his deal at $7M, which would be difficult for a team to absorb even under normal circumstances. On top of that, by playing him as a third liner this season and healthy scratching him in the playoffs, Philadelphia has ensured that his trade value will likely be negative.
van Riemsdyk was moved around the lineup a lot this season, spending no more than 10% of his ice time with any set combination of forwards. Nonetheless, he had strong underlying numbers, almost perfectly recovering to his 2017-18 form after some zero-calorie results in his first season with the Flyers. He was a major driver of offence and defence, and while his goal totals went down this season, that was mostly a function of diminished ice time.
In order to be effective, JVR needs to play with skilled guys who carry the puck and be stapled to the front of the net on the powerplay; he is fully wasted in a bottom six or a second PP unit. With Claude Giroux, Oskar Lindblom, and Joel Farabee on the left side it makes sense that the Flyers are ready to move on, but that doesn't mean he's washed up. That being said, a 31 year old net-front player with serious term and money left is a tough sell, and even with his strong analytical profile I would generally warn against acquiring a player of that age with that kind of contract. I think it's more likely than not that the Flyers will have to figure out what to do with him on the roster.
Does It Make Sense to Trade Him? Yes, the Flyers have too many left wings ahead of him on the depth chart for $7M to make sense.
Who Should be Interested? …Seattle?
3. Josh Anderson - LW, Columbus Blue Jackets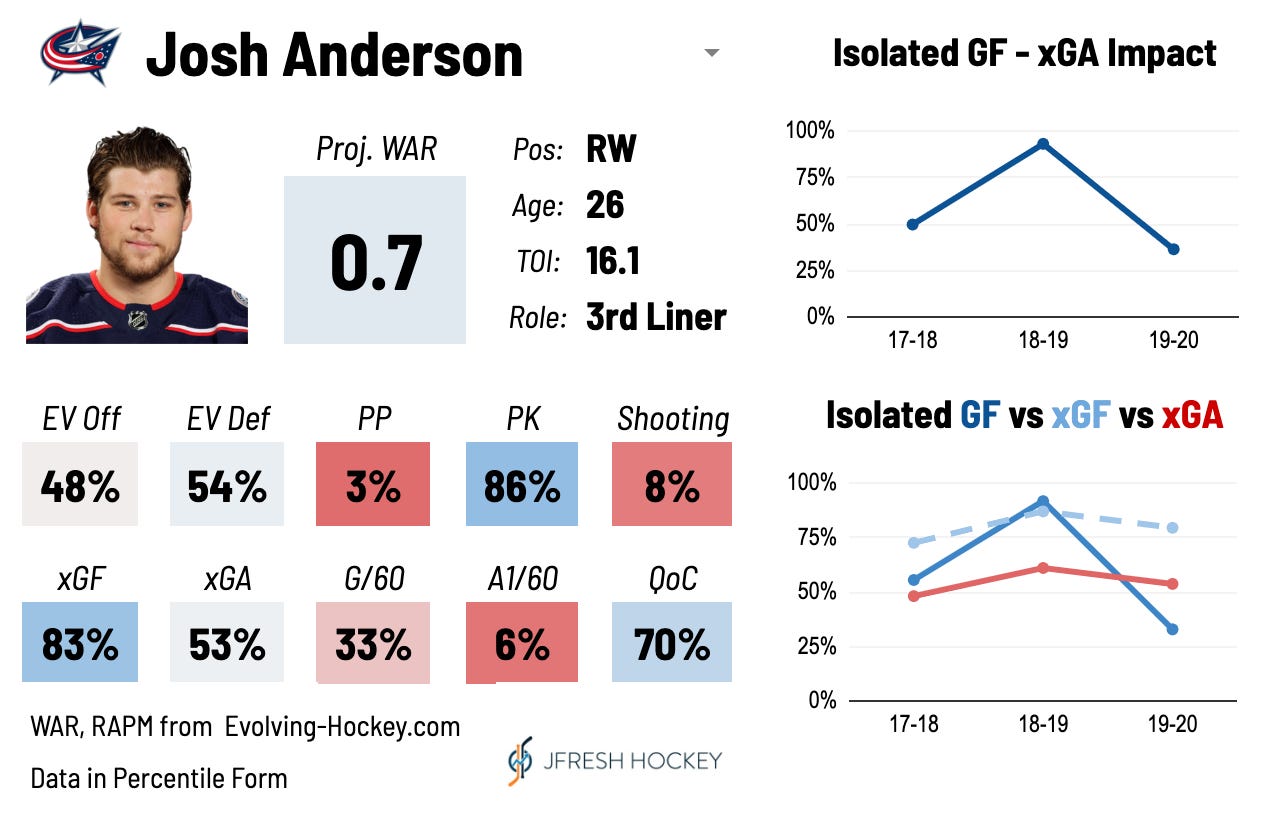 Josh Anderson is a GM's dream: he combines speed, strength, and scoring in a way that seems perfectly suited to today's NHL. He can carry the puck in transition, forecheck, and kill penalties as well. What's not to love?
While there are some big red flags (and red squares) on Anderson's card, what I would focus on with Anderson is that bottom right graph, specifically the dashed and red lines which depict his "underlying" impacts on expected goals for and against. They've remained consistent and strong throughout the past three seasons, which is encouraging considering how his point totals and other results have varied so dramatically. Looking at his "luck" stats, it's no wonder this is the case. Anderson had an on-ice shooting percentage of 5.9% this season at 5v5, and scored only 1 goal compared to over 4 expected goals. Compare that to the previous two seasons when he finished above expectation and I think it's fair to categorize this as an outlier season.
I think it would be pretty foolish of the Blue Jackets to trade Anderson this summer unless they were confident that they could get a return proportionate to his 2018-19 results or he absolutely forces one. If this is the case (and based on the Kapanen trade it's not out of the question), I see the Edmonton Oilers as being a team that could really use a player like him. If the Lightning continue to succeed, I could see the Jackets being able to sell teams on Anderson as a Blake Coleman-type player to help their team take the next step. If they can't get what he's worth, they would likely be best served to keep him on the roster and pursue a trade next season in the hopes of potentially receiving a Coleman-level return.
Does it Make Sense to Trade Him? No, unless he demands out or they really want Emil Bemstrom at RW ahead of him next season instead of playing C.
Who Should Be Interested? Edmonton, Boston, Vancouver, Toronto
4. Oliver Ekman-Larsson - LD, Arizona Coyotes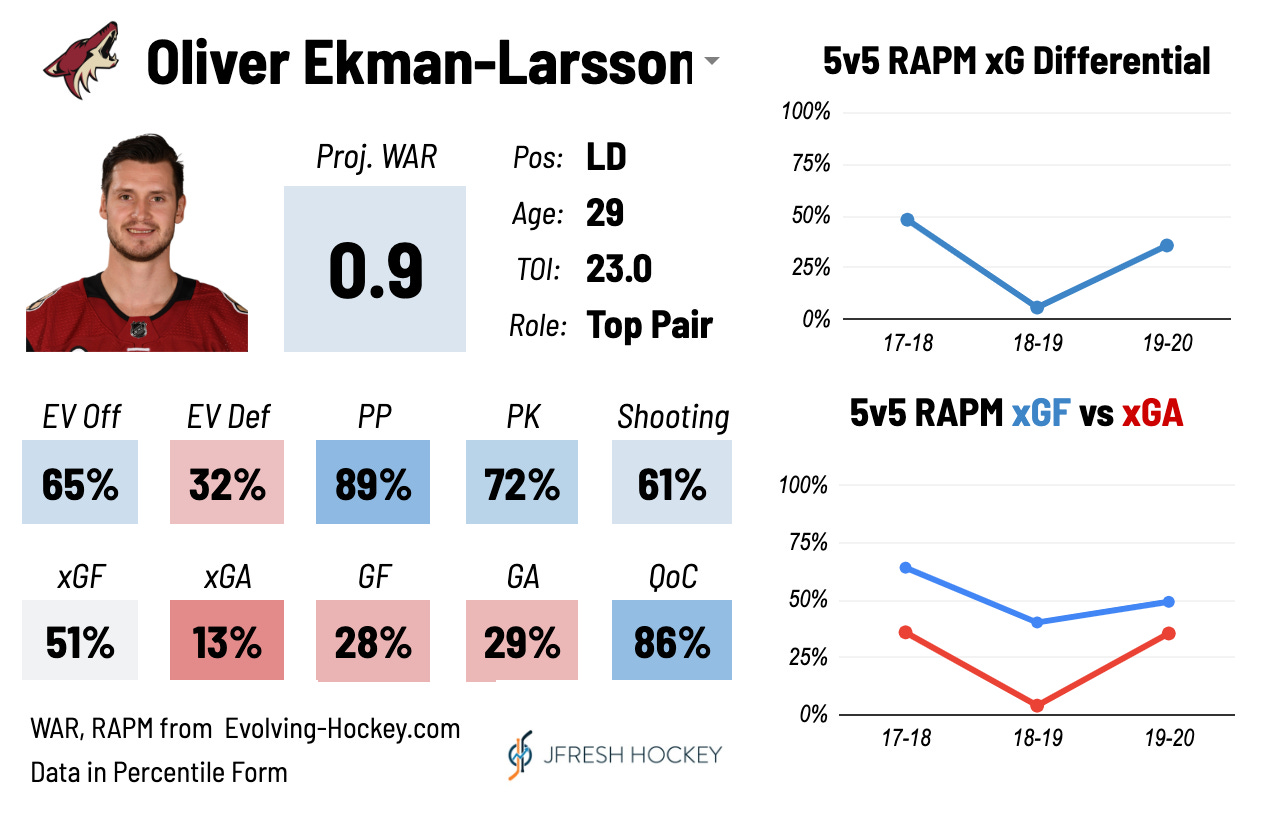 A few years ago, the notion that Oliver Ekman-Larsson would be traded for anything less than an absolute king's ransom would have been insanity. But after three underwhelming seasons and with seven years left on a gargantuan contract (which I ranked as the 14th worst deal in the NHL), it's unclear what the Coyotes will be able to get for a guy who was once seriously considered a reasonable return for the Auston Matthews pick.
OEL's performance at even strength has been decaying for years, and his on-ice impact has been consistently below average the past three seasons. His microlevel stats have diminished as well, and he is no longer a difference-maker in transition or protecting his blueline. Expecting him to step in and play elite hockey would be optimistic to say the least, because at this point he profiles as a #4 playing way too many minutes.
Moving this contract before it's too late should be a major priority for the Coyotes, but it's difficult to think of good match. How many contending teams are willing to bet $8M per year for most of the 2020s on a "change of scenery" player? I think it's more likely that he ends up staying in the desert - and with the Coyotes years away from competing again that might not be the worst option.
Does it Make Sense to Trade Him? Yes, even if he hadn't declined to cap dump levels this team is going nowhere.
Who Should Be Interested? Nobody without unrealistic salary retention.
5. Patrik Laine - RW, Winnipeg Jets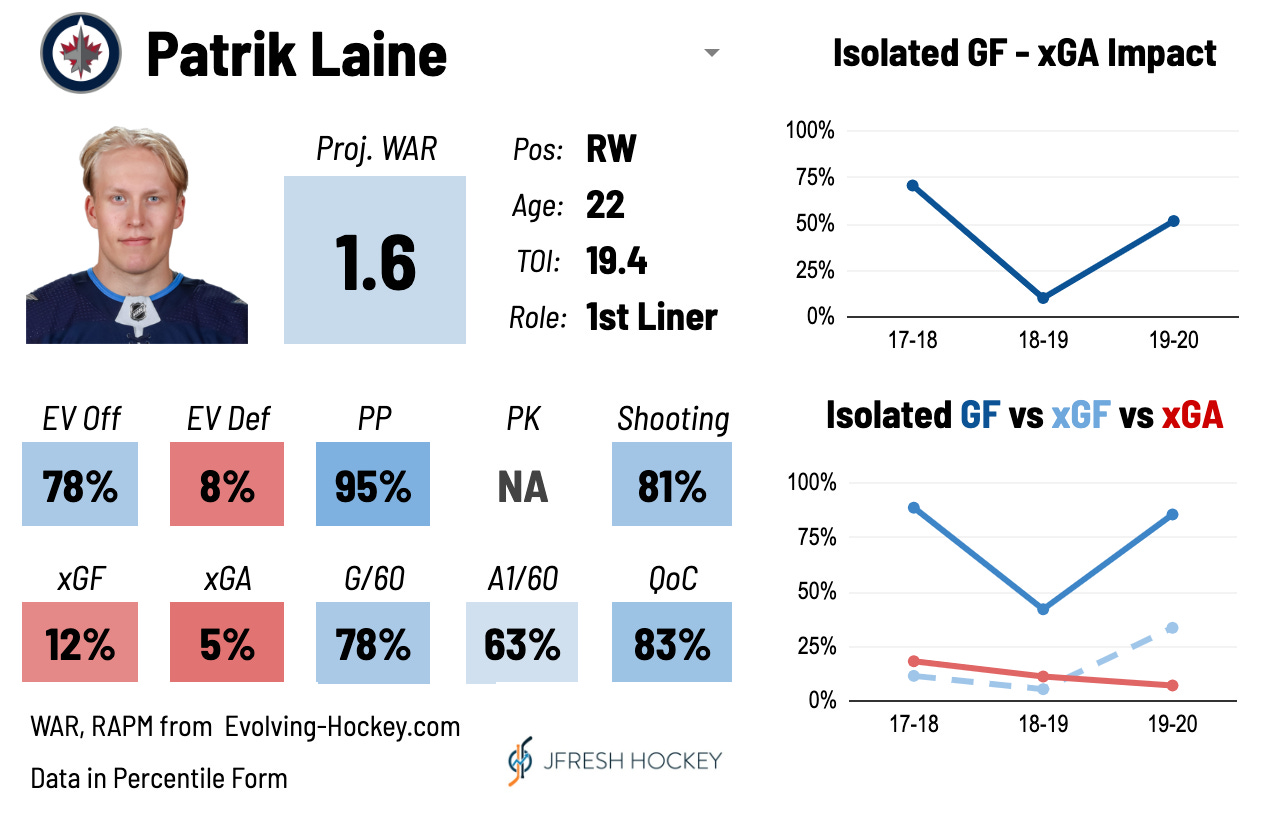 Patrik Laine is a unicorn, a player so unique that it's tough to fully get a handle on what he brings to the table. After storming into the league with the two most ridiculous finishing seasons of the past decade (from 2016 to 2018 he scored 61 wrist shot goals on 31 expected goals), Laine's scoring has cooled off considerably. He's not a one-trick pony; his puck skills are strong and his zone exit numbers are elite playing in a Winnipeg system that asks a lot of its forwards on the breakout. But with goalies and defences apparently having figured out how to handle his shot, the value he provides is much lower than it once was.
The big red flag for Laine for me is that gap between expected and actual results. Despite his strong goal metrics, he is a miserable driver of scoring chances at both ends of the ice. I wonder how much he's been the beneficiary of playing with some extremely skilled teammates in terms of both finishing and playmaking; all of Mark Scheifele, Kyle Connor, Nikolaj Ehlers, and Blake Wheeler have been near the top of the league in that regard, and it's unlikely that a team acquiring Laine will be able to surround him with such a wealth of talent. Could Laine regress to a zero-calorie 30 goal scorer like Mike Hoffman if traded to a team that desperately needs scoring due to a lack of top-end skill?
If the Jets decide to trade Laine, they need to be receiving a great 2nd line centre, a real top four defenceman, or both. He is both their most tradeable and most valuable asset, and considering the current speculation it appears that if he moves it will be for something big. Pierre LeBrun of The Athletic speculated that it would take Brett Pesce and Vincent Trocheck for Carolina to even get Winnipeg's attention, and I imagine that the Canadiens would need to add a significant piece to Max Domi and Victor Mete to be in consideration. Winnipeg has a chance to win this trade big time if they play it right.
Does it Make Sense to Trade Him? I think so. The Jets have massive, window-destroying holes in their lineup and Laine hasn't shown signs of returning to his teenage form.
Who Should Be Interested? Montreal, Minnesota, Nashville, Carolina