Discover more from JFresh's Newsletter
Analytics-based hockey analysis using visualizations
Over 5,000 subscribers
Breaking Down the TSN Trade Bait List Using Analytics (Part III)
Looking at Nikolaj Ehlers, Vince Dunn, Adam Larsson, and more.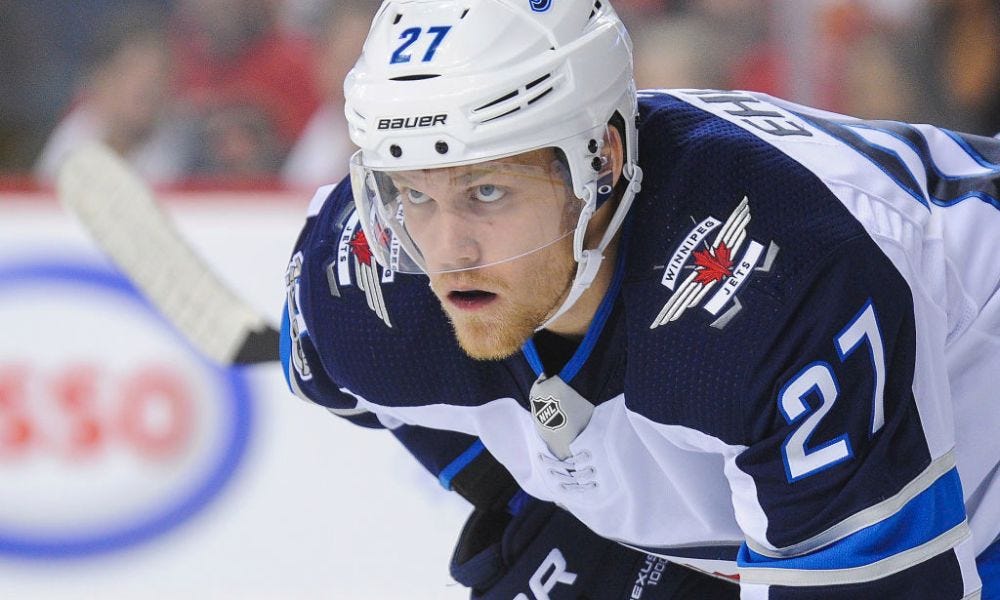 This article is Part III of a series in which I analyze the players from the TSN Trade Bait board using a variety of analytics including EvolvingWild's RAPM player isolates, Corey Sznajder's manually tracked microstats, and player deployment from HockeyViz and Dobber. Part I can be found here and Part II can be found here.
#11: Ryan Dzingel - LW, Carolina Hurricanes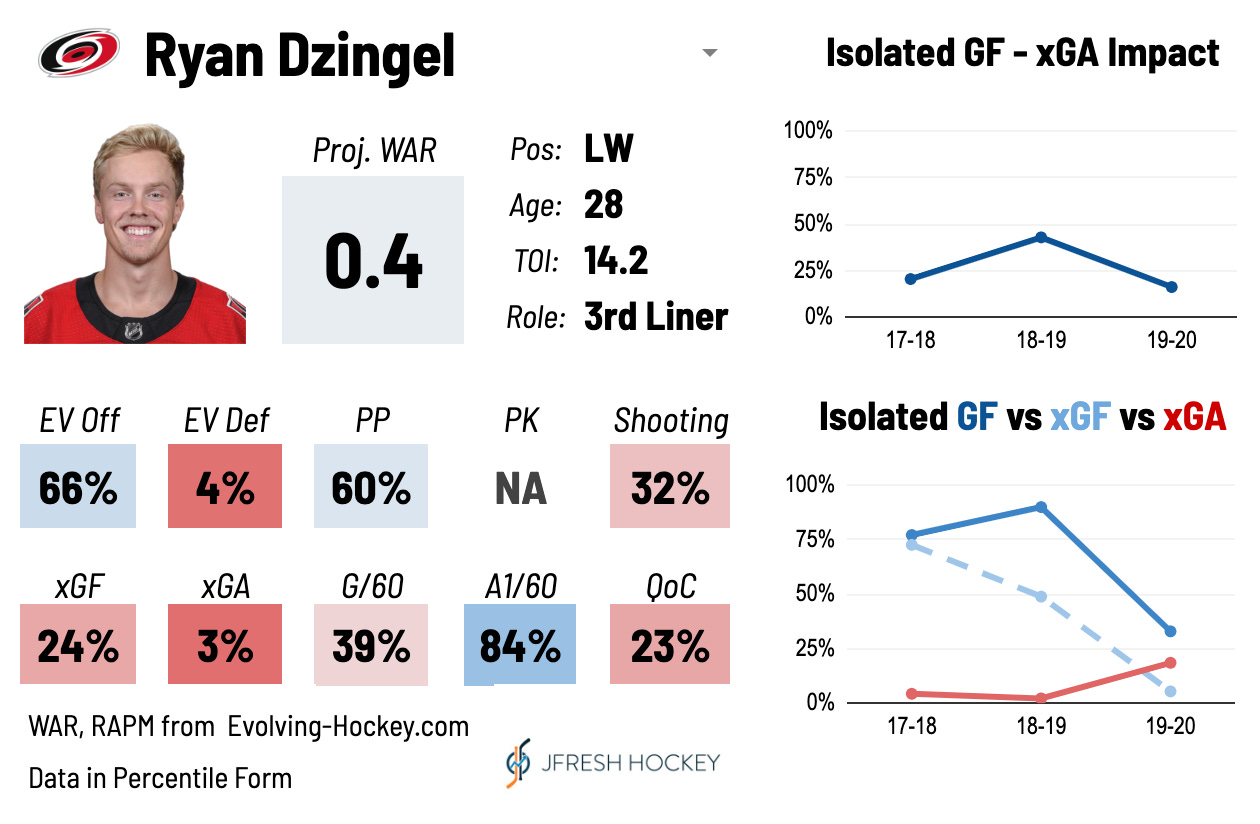 It's not often that a team buys high on a player and has to sell low on him a year later (James Neal, Derick Brassard… okay, maybe not that uncommon). That seems to be the case with Ryan Dzingel. The speedy winger plays a run and gun style that didn't mix particularly well with the Hurricanes' more possession-based offence. His transition numbers, a real strength of his in the past, collapsed this season likely due to a new system he didn't belong in. Add in that he's one of the worst defensive players in the league and that his impact on scoring chances for has declined dramatically in each of the past three seasons and it's probably a good idea for Carolina to move on.
Dzingel's only got one year left at $3.375, so he won't be breaking anyone's cap. A team looking to add some speed and offence off the rush in their bottom six could benefit from his presence as long as they have the defence to back him up.
Does It Make Sense to Trade Him? Yes, he was a bad fit in Carolina.
Who Should be Interested? Florida, Calgary, Nashville, Chicago, Montréal
#12: Nikolaj Ehlers - LW, Winnipeg Jets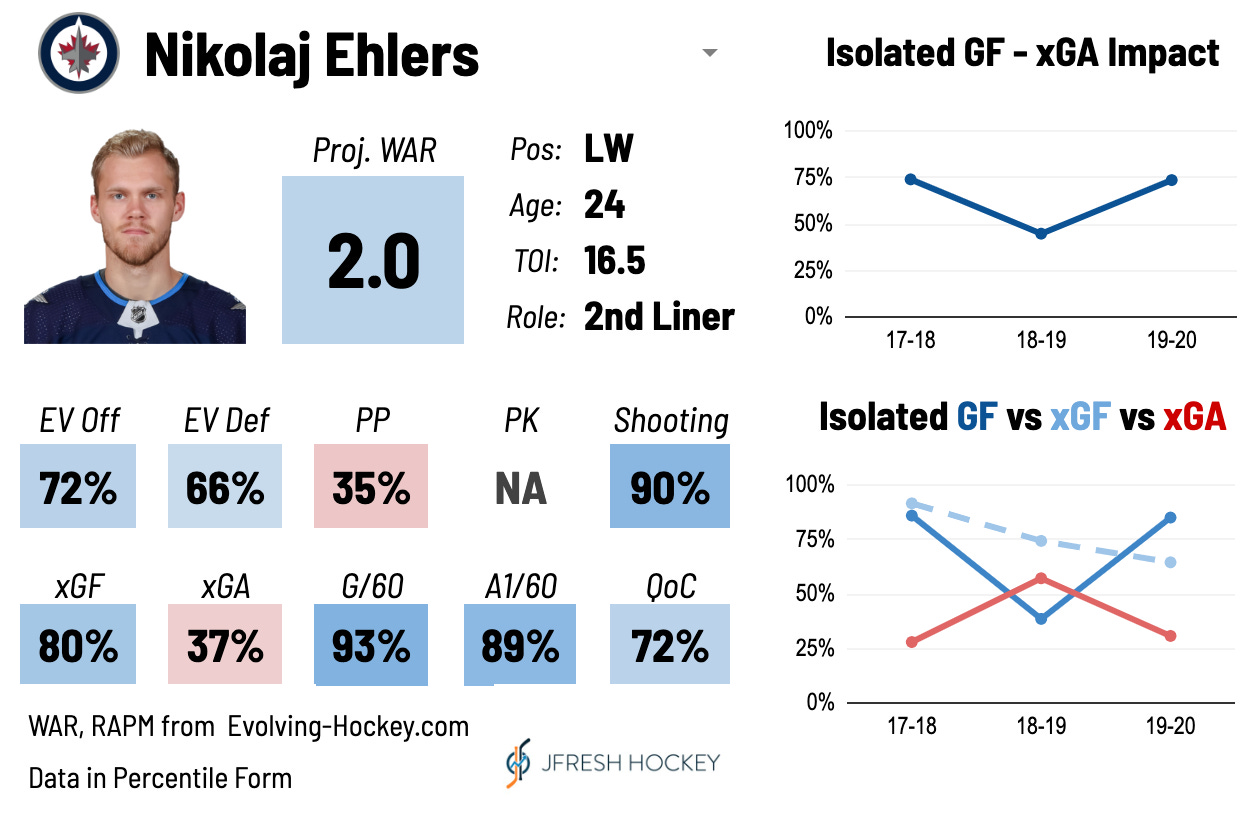 A team seeking a young top six forward couldn't ask for a better candidate than Nik Ehlers. While he's stopped short of cementing himself as one of the league's elite players, Ehlers is a productive and skilled winger who can drive his line's offence and thrives with the puck on his stick. His point totals have been blunted by being stuck on the Jets' 2nd powerplay unit, but at even strength his numbers are sparkling. He's one of the best finishers in the league and a prolific goalscorer - possibly the strongest on the market this summer. He also creates opportunities for his teammates, ranking in the 89th percentile in both primary assists and shot assists over the past three seasons. Finally, he might be the best transition forward in the league, using his speed and puck skills to carry the puck through the neutral zone at a remarkable rate.
He's locked up for the remainder of his prime at an extremely reasonable $6M cap hit (in terms of his WAR, he's worth $7.7M, while his estimated market value from EvolvingWild is $7.9). If the Jets are serious about moving him, any team with a LW vacancy in their top six should be interested.
Does It Make Sense to Trade Him? He might be the last Jets winger I'd want to move.
Who Should be Interested? Columbus, Edmonton, Nashville, Buffalo, Minnesota, Carolina, Montréal, New Jersey
#13: Vince Dunn - LD, St. Louis Blues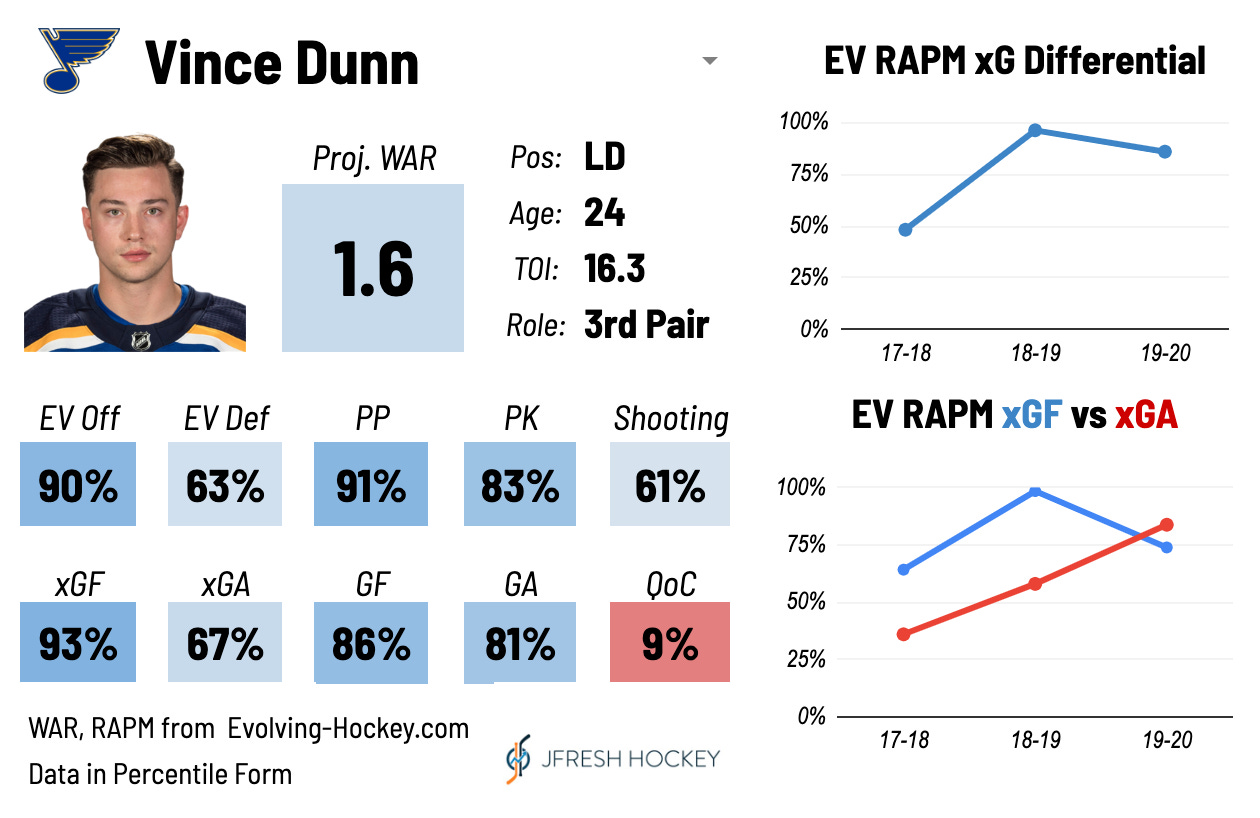 Vince Dunn is a really intruiging player. Analytically speaking, his numbers are absolutely sparkling - he has some of the finest isolated results of the past two seasons, his defensive impact has improved each year, he's a great contributor on special teams, and even his microstats at both ends of the ice are very strong. In a vacuum, he's easily one of the best defencemen on the market. The quality of competition thing is interesting though. Dunn has been extremely sheltered over the course of his career, and despite playing some sizeable minutes with Alex Pietrangelo has always been kept away from other teams' top lines. That being said, I think it's a safe bet that he's at least a strong top four defenceman and if it turns out that he was being sheltered unjustifiably then he has a very high ceiling. On top of that, he's projected to receive a small bridge contract which he will almost certainly outperform by a large margin.
Does It Make Sense to Trade Him? No, especially if the Blues are forced to let Pietrangelo go.
Who Should be Interested? New York Rangers, Boston, Ottawa, Vancouver, New Jersey, Winnipeg
#14: Alex Killorn - LW, Tampa Bay Lightning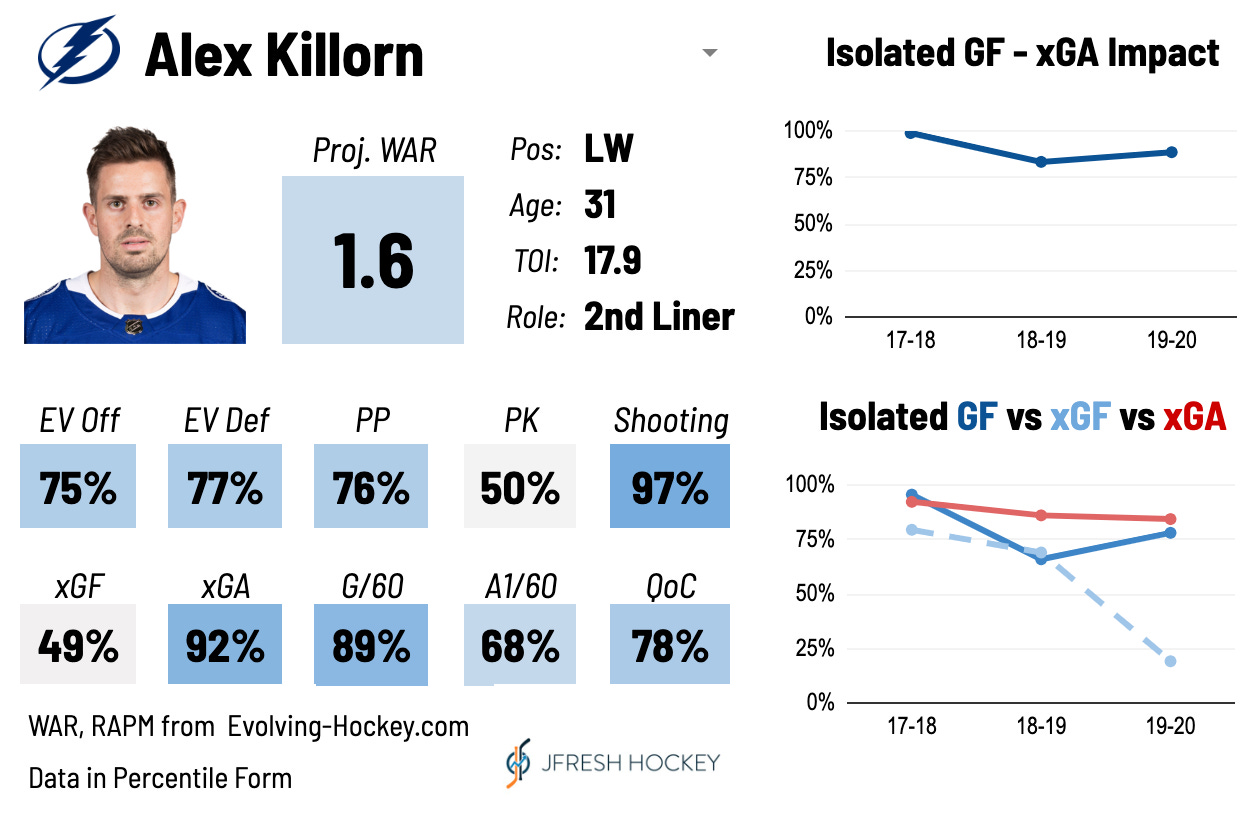 Among Tampa Bay's many organizational strengths, one of the most useful is that their "cap casualties" tend to be actually good players. Alex Killorn is no different. He's a very strong player at both ends of the ice, one of the league's top finishers, an effective forechecker, and a consistently exceptional scoring chance suppressor. The only point of concern for Killorn is that his offensive expected goal driving fell off a cliff this year for some reason, but considering that it's an outlier and his goal driving remained strong I wouldn't be overly concerned about that.
Three years left at $4.45 for a player in his thirties isn't an ideal contract situation and will decrease his trade value, but for now Killorn should slot in as a strong complementary player on a contending team's top six.
Does It Make Sense to Trade Him? Yep, Tampa needs the cap space and he's expendable.
Who Should be Interested? Nashville, Ottawa, Dallas, Vegas, Montréal
#15: Adam Larsson - RD, Edmonton Oilers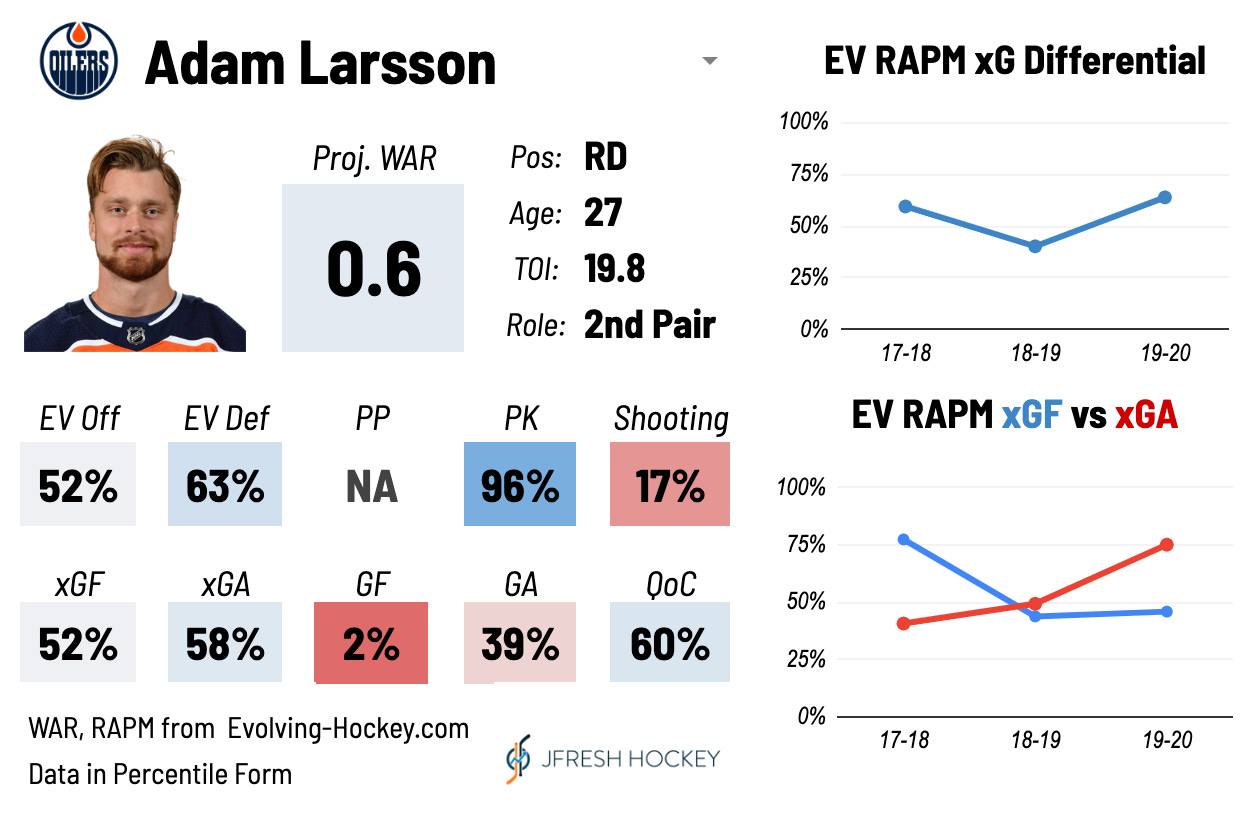 There's something not a lot of people realize about the infamous Taylor Hall for Adam Larsson trade: in 2016, a 22-year-old Larsson profiled as an elite defence-only defenceman in the Marc-Édouard Vlasic or Niklas Hjalmarsson mold. We'd remember that trade a lot differently today if Larsson had remained on that path, but instead he settled in as a decent middle-pair guy who never matched that defensive impact. Aside from his top notch penalty killing, Larsson's on-ice impacts don't line up with his reputation as a stay-at-home guy, and any team expecting an expert scoring chance suppressor will likely be disappointed. What he is is a top four-calibre right handed defenceman who can penalty kill and isn't a total liability offensively.
I'm not entirely sure why Edmonton would prioritize trading him unless they anticipate receiving a significant return and replacing him on their blueline with something better. But I'm sure there would be a few teams interested either this offseason or at the deadline.
Does It Make Sense to Trade Him? If Edmonton can get a big return and have a replacement in mind, I guess so.
Who Should be Interested? Toronto, Philadelphia, Ottawa, Vancouver, Winnipeg