Joshua Ho-Sang Belongs in the NHL
His play is not the reason he's out of the league.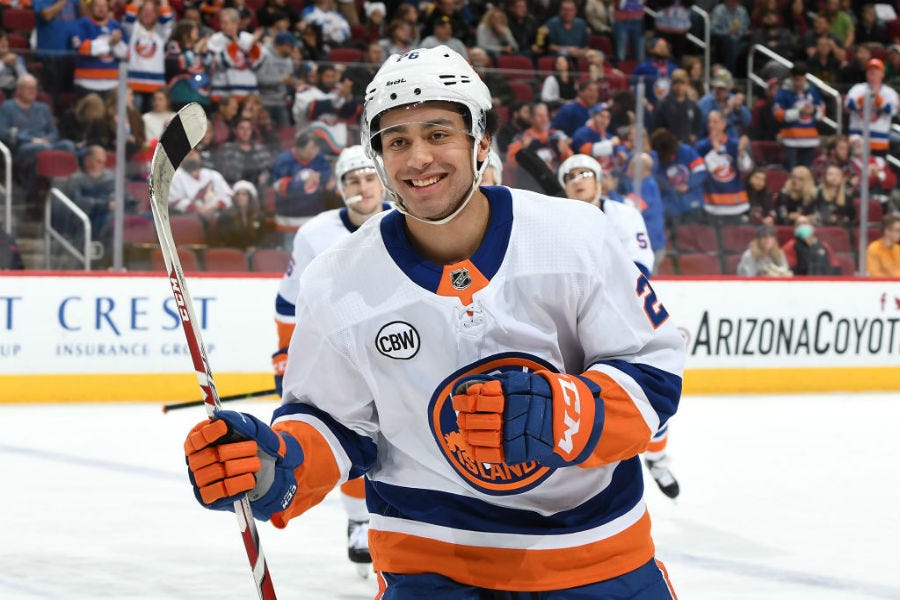 Josh Ho-Sang hasn't played an NHL game since January 5th, 2019, when he was sent down inexplicably after a ten-game stint. He didn't make the Islanders in October, he wasn't picked up on waivers, he wasn't acquired before the deadline. Joshua Ho-Sang isn't an NHL player right now. But he should be. In three short stints in the NHL, he has provided no reason to believe that he isn't better than dozens of players currently on rosters around the league.
He's clearly outspoken, unafraid to speak his mind, and willing - unlike so many other players - to publicly articulate frustration, including with his organization. Clearly, most (if not all) NHL front offices see this as a liability and a headache, the sign of an entitled player who will be more trouble than he's worth. But his frustration is understandable. The Islanders have stunted his development, have harmed his career, and have done so for no reason related to his on-ice performance. That Ho-Sang is not an NHL player has nothing to do with the quality of his play - he is not "bad defensively", is not "selfish with the puck," and has shown that he can play Trotz's system. In every too-short stint he has received with the Islanders, he has demonstrated that he is an NHL talent - in 2016-17 and 17-18, it was as a dynamic offensive playdriver, and in 18-19 it was as a responsible defensive player and driven backchecker. Whatever is keeping Ho-Sang out of the league must be based exclusively on what happens off the ice - if it isn't, then it's a massive failure of player evaluation.
(This article will reference stats from EvolvingHockey and a video breakdown from Lighthouse Hockey)
2016-17 and 2017-18
On the ice, Ho-Sang has a reputation for being a poor and lazy defensive player, still in an OHL mindset where he can get by on pure talent. Admittedly, that's the way he played in 2016-17 and 2017-18. In 16-17, among the 455 NHL forwards who played over 150 minutes, he ranked 419th in terms of defensive goals above replacement per 60 minutes; the next year he ranked 440th. However, those same years he was 70th and 80th offensively, outweighing his poor defence by a wide margin.
If you compare him to other Islanders forwards in those seasons, you notice some interesting things:
In 2016-17, he ranked 7th on the team in Wins Above Replacement/60, and was better defensively than Alan Quine and Jason Chimera.

In 2017-18, he again ranked 7th in WAR/60, and was better defensively than John Tavares, Josh Bailey, and Anthony Beauvillier.
Worth noting. But let's toss that out the window for a second (especially because I can already hear the "WAR is voodoo" crowd). Let's assume that it was the right developmental move for the Islanders to send Ho-Sang down to work on his defensive play, and that - especially in 2018 - the team had plenty of offence already and couldn't afford another defensive liability in their lineup. So Ho-Sang went back to Bridgeport, and worked to improve his defensive play. And then he got screwed for it.
The Bait and Switch
In December 2018-19, Ho-Sang was finally given another shot, and he was absolutely determined to make the most of it and prove to new coach Barry Trotz and GM Lou Lamoriello that he was capable of playing their defensive system. And he did. Not a single NHL forward who played over 140 minutes in 2018-19 was better defensively in terms of even strength defence GAR/60 - that same stat where he was so horrible the previous two seasons - than Josh Ho-Sang.
Let's take a look at all of the Islanders forwards just in that ten game stretch and see how he stacked up. First, we have expected goals against per 60 minutes, the best way we have of measuring how a team played defensively (by preventing quality chances against) when a player is on the ice. Minute-for-minute, no Islanders forward was on the ice for fewer quality chances against than Ho-Sang:

"Expected goals? That's just some stats nonsense." Fine. How about actual goals?

This also isn't just about stats either - the eye test reflects it as well. Jonathan Spicyn made an excellent video breakdown of Ho-Sang's play in the 2018-19 season in an article that he wrote after Ho-Sang was demoted. The first 5:40 are good plays that he made, while the final 3:00 are bad ones. Watching it, you not only see Ho-Sang's dynamic skill at handling the puck and especially passing, but the extent to which he absolutely busted his ass on the back-check and took away chances in his own end. He's not a perfect player by any means, and can get caught puckhandling for a little too long sometimes, but even many of the "bad" plays he makes are relatively innocuous - the kinds of turnovers players make every game.
Ho-Sang's reward for fixing his defensive play? Back to the AHL for good, in large part for a "lack of production" (1G and 1A in 10 GP). One possible explanation for that lack of production? A 4.8% on-ice shooting percentage. A skilled player with loads of potential who was incredibly effective defensively got sent down for something that any 2013-era stats blogger could have told you was going to regress to the mean.
No wonder he's frustrated with the organization. They call him up to add offensive spark in 2017 and 2018, and they send him down because of poor defence. They call him up again in 2019, he plays great defence, and then they send him down because of low production. With all the evidence above, was it really worth sending him down for 0.6 turnovers a game and some bad puck luck? And is it any surprise that he doesn't give it his all in the AHL, knowing now that it literally does not matter how well he plays - the Islanders will just find some excuse to send him down anyway?
Conclusion
Josh Ho-Sang is not a bad defensive player. He's not uncoachable. He's not incapable of playing in a defensive system. He's not useless in a bottom six role. In every short stint he's ever had in the NHL he has been a well-above replacement level player, either because of excellent offence or great defence. Maybe he has an attitude that teams don't want to deal with - or maybe, at least in part, he's justifiably sick of being jerked around an organization that clearly wants nothing to do with him no matter how well he plays. He will never succeed with Trotz and Lamoriello because they will not let him succeed.
The Isles dressed five forwards this season who played over 50 minutes below-replacement level. The Senators, who probably could have had him as a throw-in in the Pageau trade, dressed nine. In the whole league, it was 158. Ho-Sang has never played below-replacement hockey in his NHL career. There is no reason he should not be playing at least on somebody's third line.
He deserves a chance to prove himself on a consistent basis with decent linemates in an organization that is willing to work with him productively instead of breathing down his neck and sending him to the AHL at the earliest opportunity. Teams should not just look at his box score stats, his underwhelming AHL numbers, and his reputation: in the right role, Ho-Sang has the tools to thrive in the NHL.