Trade Analysis: Hornqvist for Matheson + Sceviour
Breaking down the Pittsburgh/Florida trade using analytics.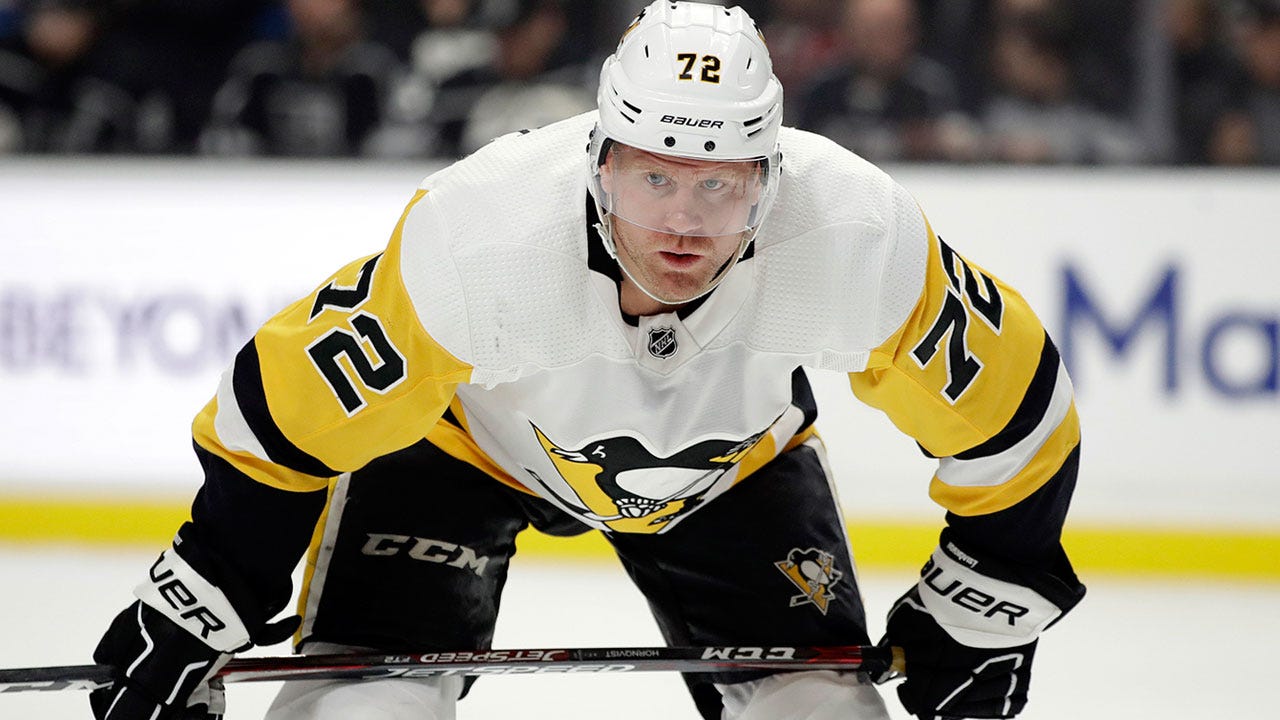 Who Did the Penguins Get?
Mike Matheson is a bottom-pairing defenceman and has been throughout his career. He brings below-average value at both ends of the ice and is unremarkable on special teams. One area where he does excel is his shot; he scores at a higher rate than the vast majority of defencemen and has nice finishing talent relative to his peers. In 2019-20, the best season of his career, Matheson performed at a slightly below-average level in third pairing minutes (with some time at forward as well).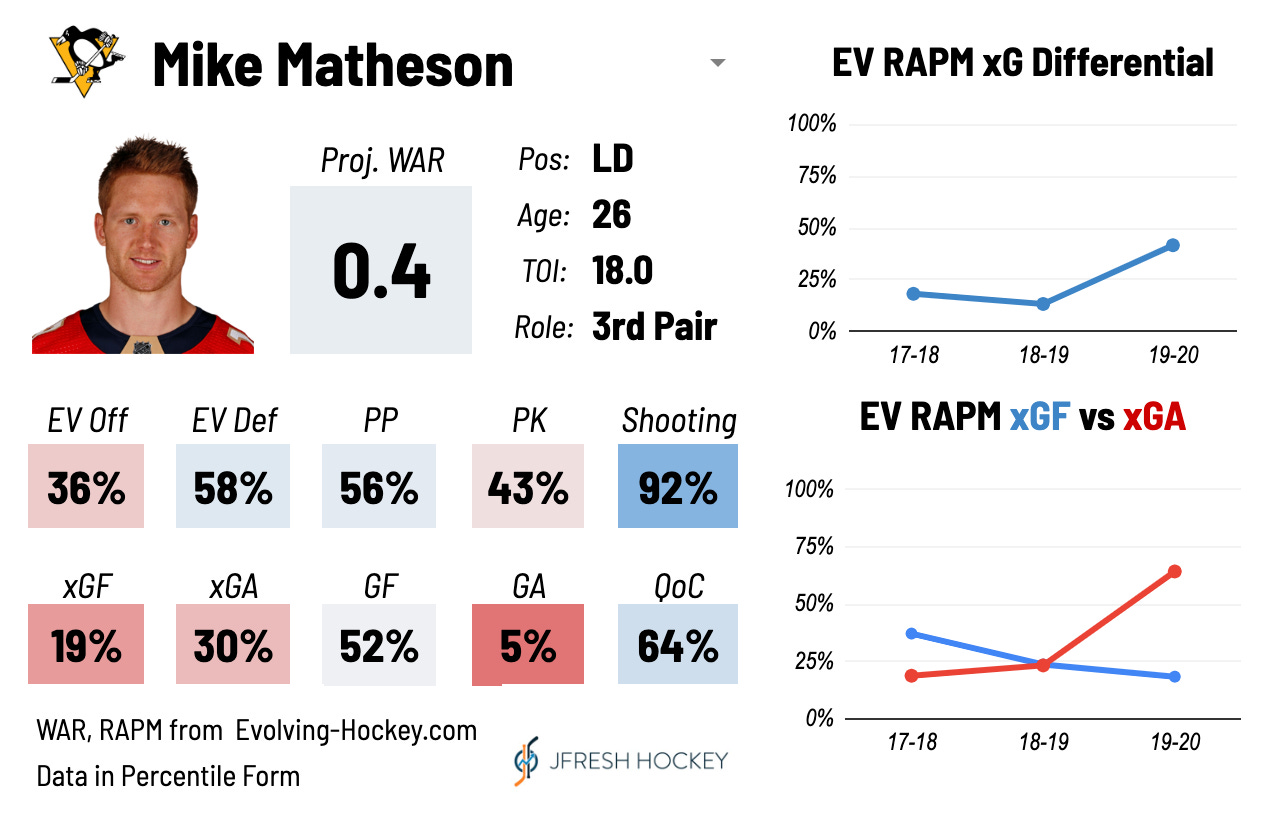 You would get a very different idea of his play based on looking purely at his microstats and particularly his transition numbers. Matheson shoots the puck a lot and loves to carry it into the offensive zone with possession. He's a talented skater, and uses his agility to play a close gap when his opponents enter the offensive zone.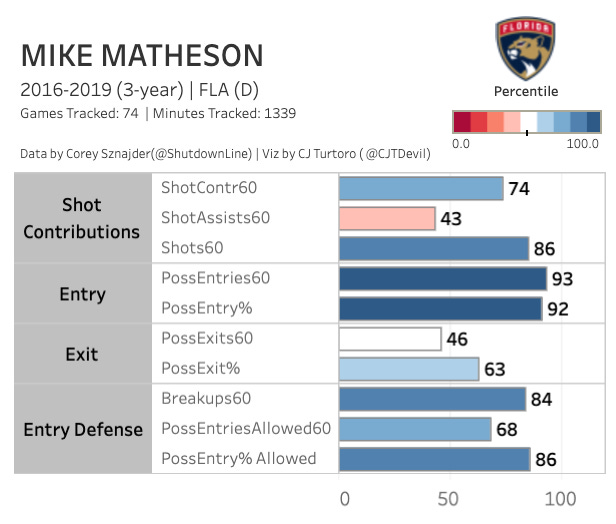 As with all microstats, it's difficult to parse out how much of this is because of Florida's system and how it will translate in Pittsburgh. For example, the Panthers allow their defence to lead the breakout and enter the zone with the puck quite often, while the Pens leave that task to their forwards. In terms of breakout passing, Matheson's numbers are quite similar to Dumoulin, Marino, and Riikola, so he doesn't represent a huge addition in that regard. Clearly there's a disconnect between some of Matheson's abilities and his overall results. SportLogiq's proprietary data reveals some more strengths of his - and a crucial weakness.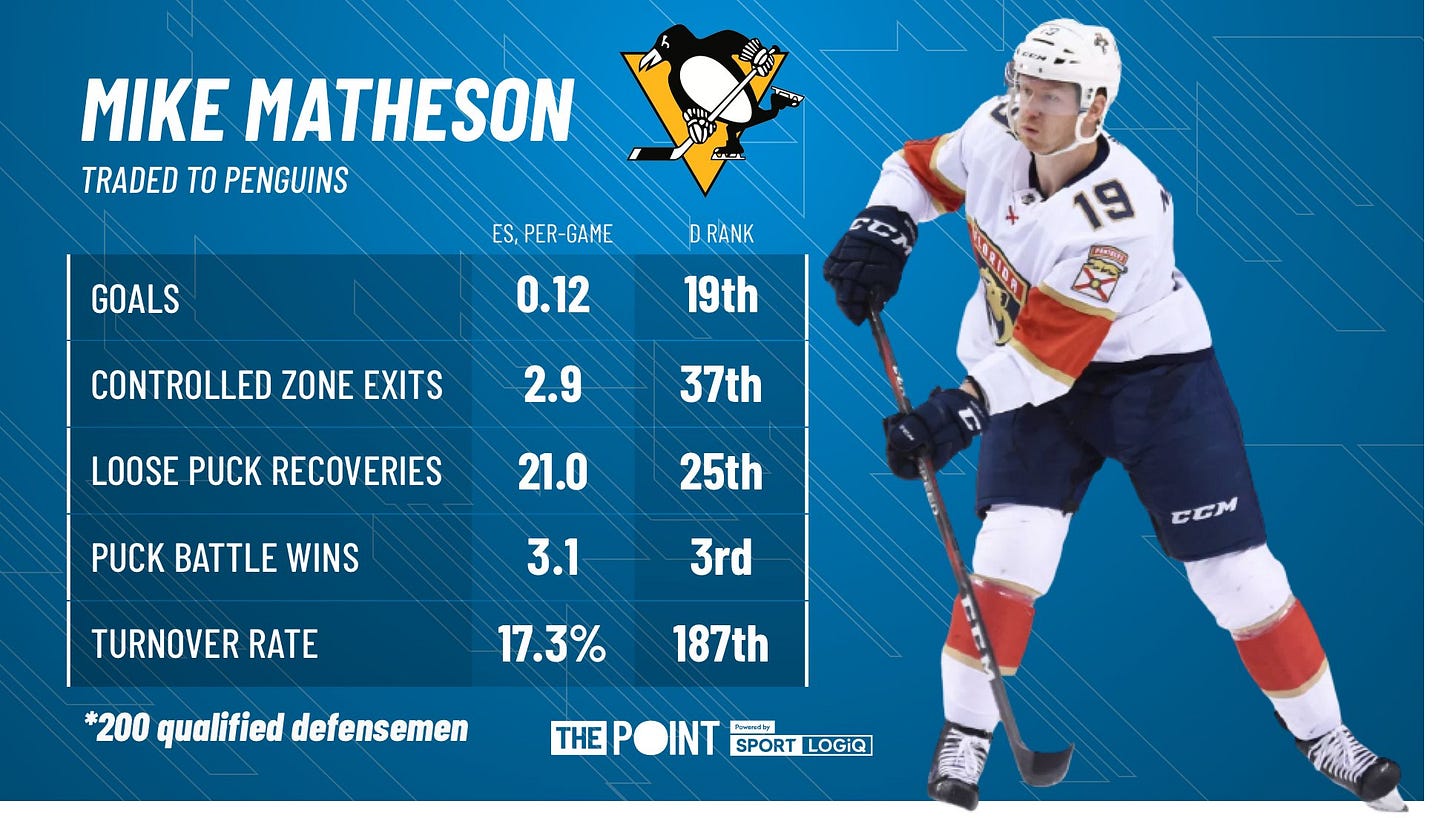 Matheson excels in recovering loose pucks and winning puck battles. But as with any defensive zone volume stat, this begs the question why he spends so much time playing in his own end to begin with. These numbers explain one possible reason: at even strength, Matheson turned the puck over on 17.8% of his possessions, which ranked 187th out of 200 defencemen. It seems as though he likes taking risks with the puck, which often has consequences. That will be something for Todd Rierden to work with him on.
With six years with an AAV of $4.875M on Matheson's contract, the Penguins are once again making a huge investment in a reclamation project. He was healthy scratched in the postseason, and has never played at a top four level in this career - as with Kapanen, the Pens are betting on their ability to turn a depth player into a key contributor.
Colton Sceviour is a capable bottom six forward who's about average at both ends of the ice and struggles to finish. He doesn't project to be better than any forwards currently in the Penguins' lineup, but depending on future moves could be a serviceable player for them.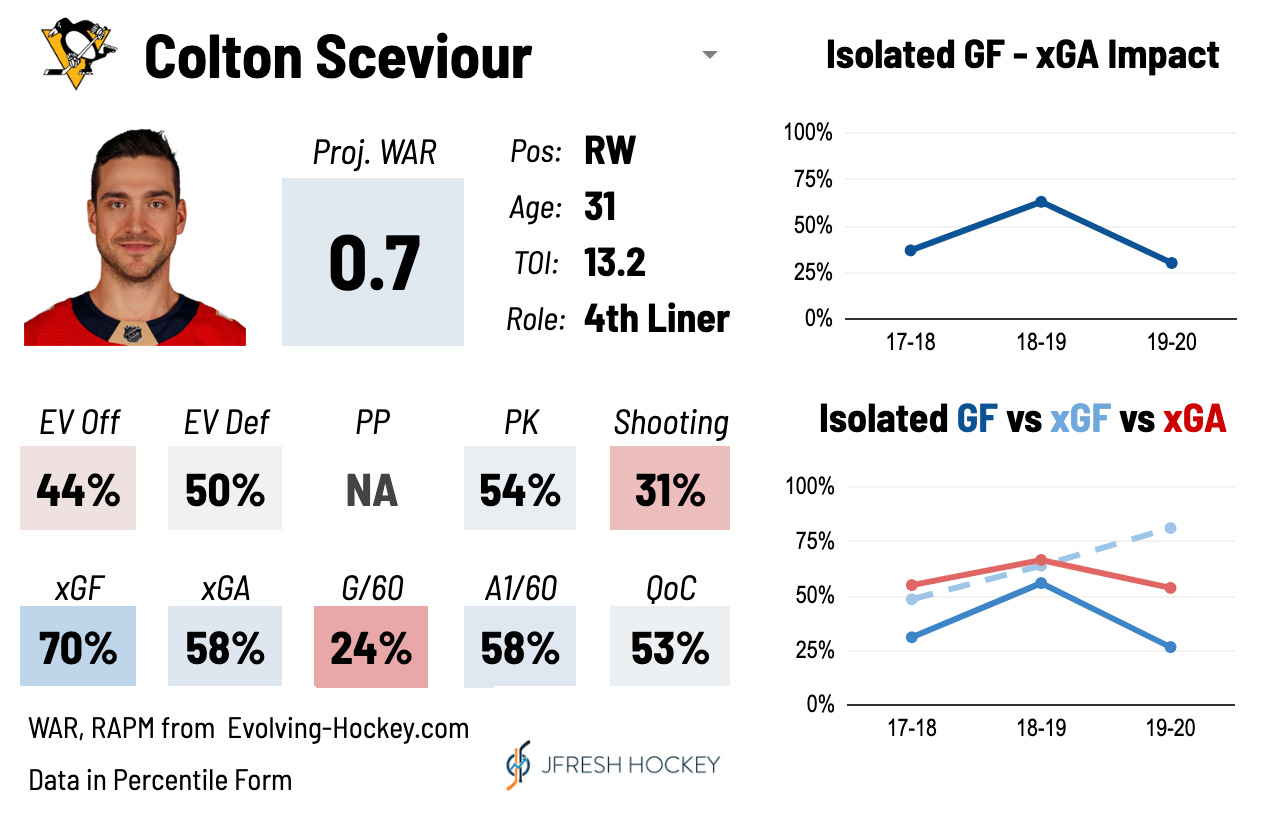 Who Did the Panthers Get?
Patric Hornqvist is an average player at even strength at both ends of the ice, and has been for the past three seasons. His abilities as a netfront presence have not declined, particularly on the powerplay where he ranks as one of the best garbagemen in the league. These numbers could drop away from Crosby and Malkin, but Barkov and Huberdeau should appreciate the effect that he has screening the goalie.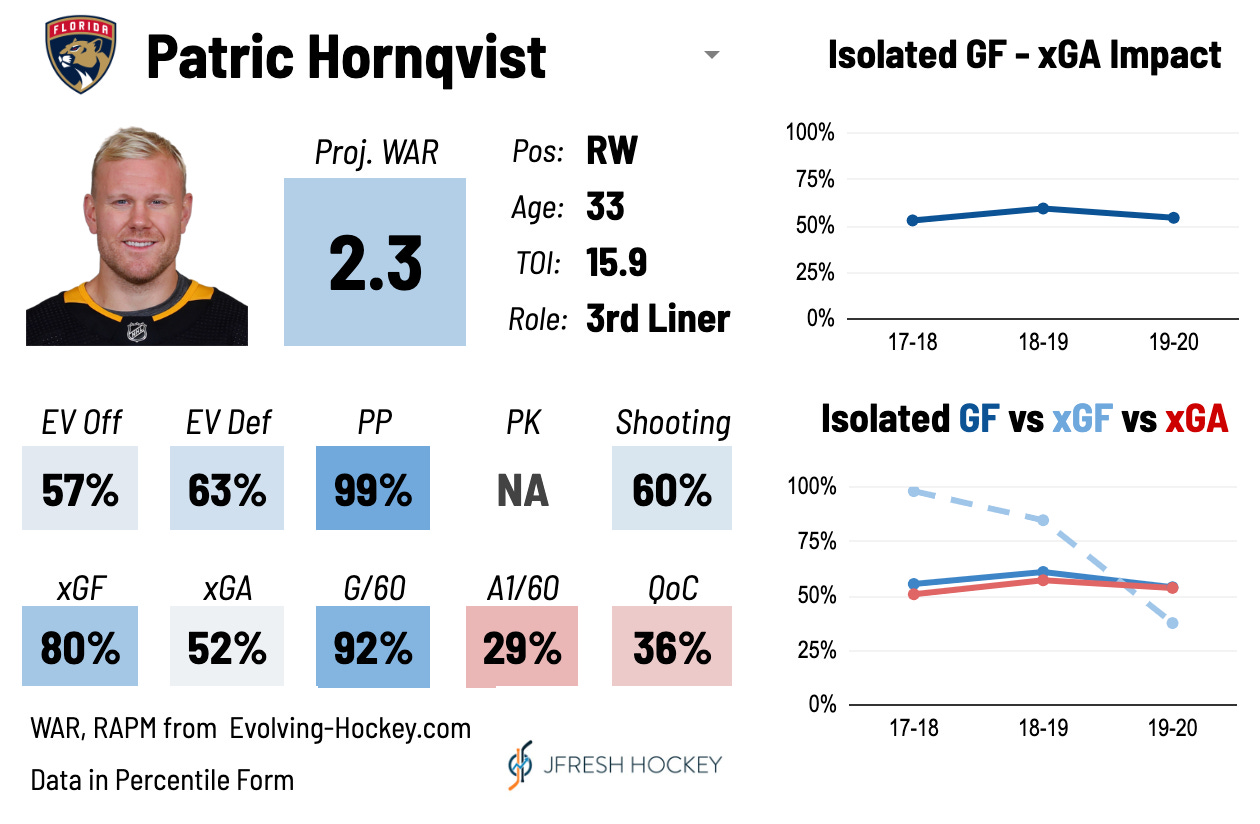 The decline of Hornqvist's skating - which was never a strength to begin with - limited his ability to keep up with the Penguins' top six forwards, and he's recently played mostly third line minutes as a result. Expecting any level of puck control, passing, or transition play from Hornqvist will leave you disappointed, and he is not an active forechecker either - at this point is his career, you pay Hornqvist to stand in front of the net. His three years left at $5.3 are a tough pill to swallow, particularly if nagging injuries start to affect those areas where he remains effective.
Verdict
Moving on from Mike Matheson is an easy decision for the Panthers, who were already willing to scratch him and move him to forward rather than commit to keeping him in their defensive lineup. Patric Hornqvist might initially seem like an odd target for a team that had the 3rd best powerplay in the league last season, but with two of their top six wingers moving on it makes sense for them to seek a replacement. Considering that that powerplay was essentially built around the departing Mike Hoffman's shot, Hornqvist could be a crucial part of a rebuilt 5v4 setup.
Trading Patric Hornqvist makes sense for the Penguins; he was no longer a fit in the top six, didn't make sense in a bottom-six role, and made too much money for too long to stick around as a pure powerplay specialist. That being said, Mike Matheson is a very risky investment considering the sheer size of his contract. He is paid like a top four defenceman but has not proven himself to be that calibre of player, and as with Kapanen the superficial elements of his game that would seem to fit the way the Penguins play are counterbalanced by many that do not.
This move almost certainly requires at least one major follow-up move for the Penguins to clear space on the left side of their blueline, as they currently have Brian Dumoulin, Marcus Pettersson, Jack Johnson making over $3.25M and Juuso Riikola making NHL money as well. The next decision Jim Rutherford makes will be extremely consequential.