Discover more from JFresh's Newsletter
Analytics-based hockey analysis using visualizations
Over 5,000 subscribers
What Makes the Lightning's Third Line So Dominant?
Coleman, Gourde, and Goodrow's pressure-based attack shows how "grit" can be productive.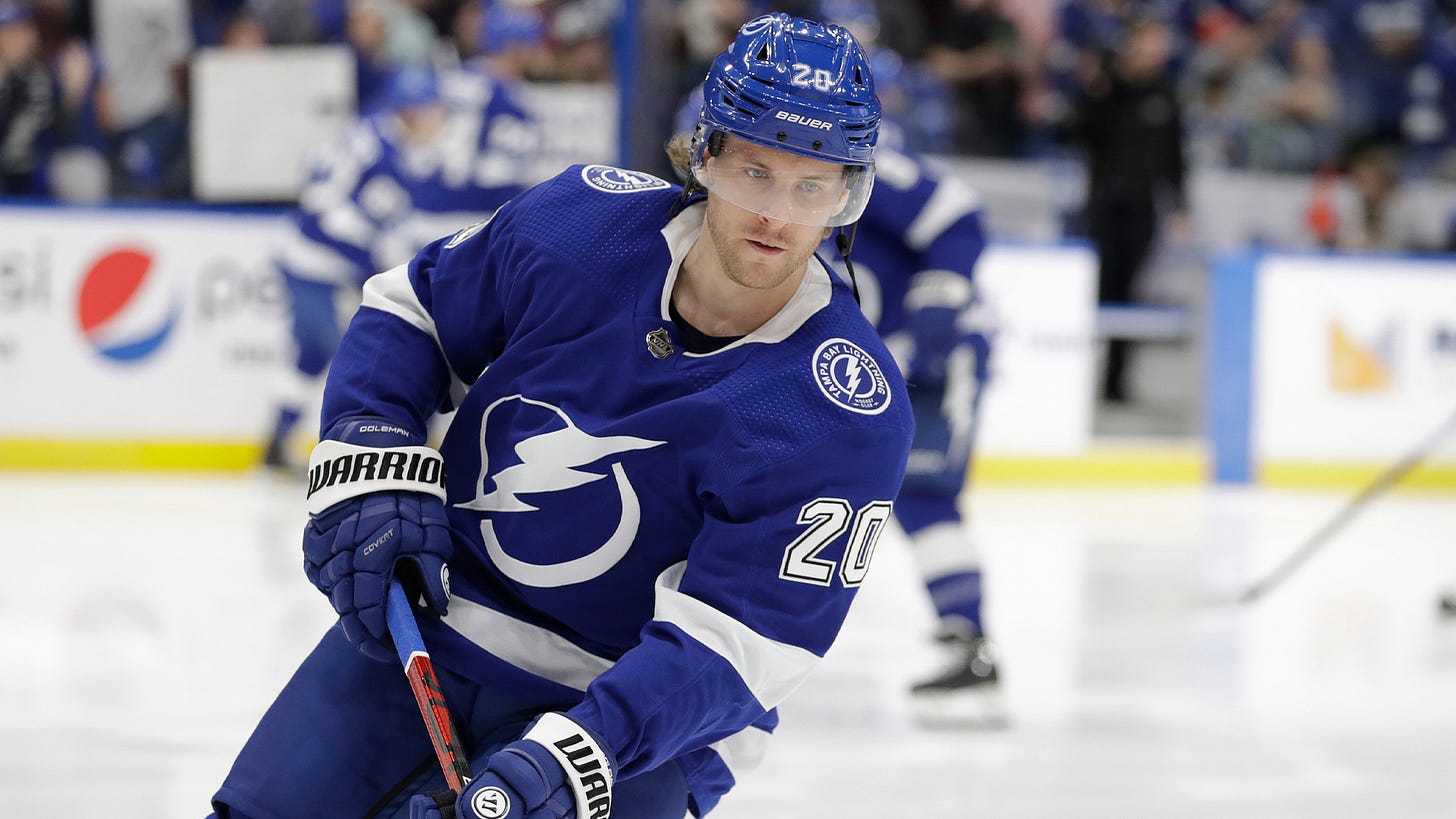 A lot has been made of how the Lightning got over the hump and made it back to the Stanley Cup finals this year, and a prevailing narrative is that the difference this season was the acquisition of a set of "grittier" players: Blake Coleman, Barclay Goodrow, Zach Bogosian, and Luke Schenn. The story goes that the Bolts got worn down by the Jackets in 2019, learned they needed more than skill to win in the playoffs, and acquired physical old school players - ergo Kyle Dubas needs to trade William Nylander for a tough fourth liner. That's not totally accurate though, and doesn't give nearly enough credit to the calibre of the guys currently playing on the Lightning's third line.
People who don't really understand analytics often believe that they universally favour small, skilled players and disavow any physicality whatsoever, but that's not remotely true. However, to translate to actual on-ice results, grit and truculence have to be productive and serve the function of keeping play alive, keeping the puck out of the defensive zone, and producing scoring chances. Blake Coleman, Yanni Gourde, and Barclay Goodrow have that "new school" grit - the ability to use their skating and smarts to forecheck like crazy, retrieve pucks, and exert pressure on their opponents all over the ice. Coleman leads the playoffs in hits, but they're not bone-rattling collisions; Goodrow is fourth among forwards in blocks, but he's not getting stuck in his own end a lot. The key to the success of this third line is that it has top-six calibre players who play a bottom-six style game, possess complementary skillsets, and fit the way Tampa plays to a tee. Teams trying to replicate their success should keep that in mind before deferring to old school plugs.
The Third Line By the Numbers
Tampa Bay's third line ranks very highly in a number of statistical categories, particularly defensively, when compared to other units in these playoffs. These numbers are even more impressive considering that all of the lines with better results are team's first lines, and they have played significantly more minutes together (261 minutes) compared to most of their competition.

The key for the trio has been limiting scoring chances against by keeping the puck in the offensive zone and grinding along the walls while converting on the scoring chances they do get. Why have they been able to do that? There are a couple reasons.
The Players Are Really Good
You'd think this would go without saying, but the main reason the Goodrow/Gourde/Coleman line has been successful is that it is more skilled than third lines tend to be, to say the least.

Yanni Gourde was forced into fourth-line minutes for most of the season, but his performance has been fairly consistent across his career with the Lightning regardless of where he's been played in the lineup. He's a positive play-driver at both ends of the ice, an above-average scorer, and a very capable defensive player. Blake Coleman (who I chose as an off-the-board Selke contender) is an elite defensive player and penalty killer who can score - and with New Jersey this season he did it on a top six while playing against some of the toughest competition in the NHL. Finally, Barclay Goodrow is a limited player, but he's an excellent shot suppressor.
Combining these three guys, who all rank in the 89th percentile or higher at preventing scoring chances and play complementary forechecking-based styles, was practically destined to produce great results. Tampa's depth has been a strength for years, but by adding Coleman and Goodrow they were able to fortify it even more and deploy a lineup where each bottom-nine unit is simultaneously playing a role below their capabilities but suited to their skillsets.
How Tampa Plays the Game
You might have the impression that Tampa is a skill team that carries the puck into the offensive zone and generates offence off the rush - the commentators have described them as such more than once in these playoffs. But apart from the top line that isn't really the case. In the regular season, the Lightning actually ranked in the bottom half of the league in terms of how often the entered the offensive zone with possession of the puck. They were quite happy to dump the puck in and retreieve it, in part because they knew they had the forecheckers to do it. Per Corey Sznajder's manually tracked data, he Bolts led the NHL in the percentage of dumped pucks recovered (26.5%), and had six players recover more than five per sixty minutes, including Carter Verhaeghe, Blake Coleman, and Yanni Gourde in the top six.
That's continued into the playoffs - check out these rankings of total forecheck stats during the playoffs so far: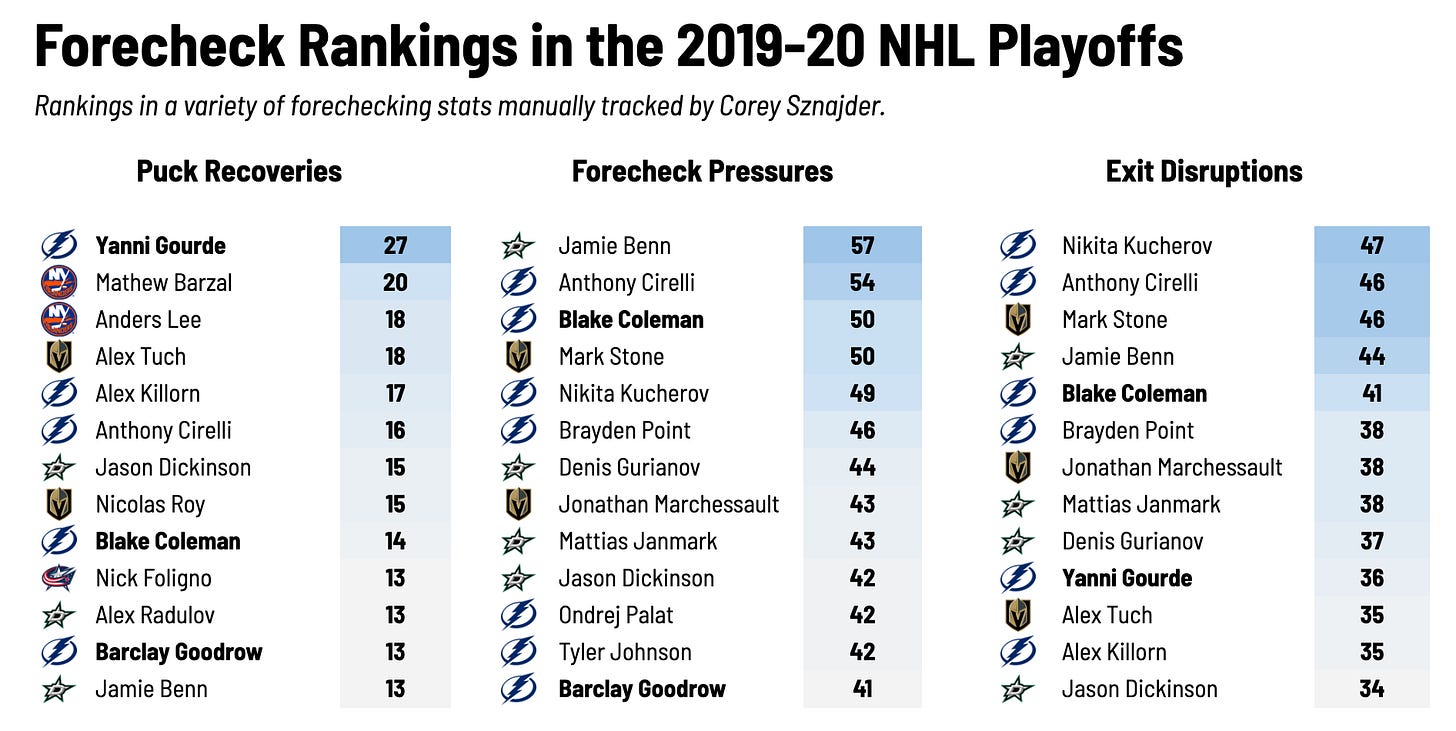 Gourde leads the playoffs in puck recoveries and it's not even close, with Coleman and Goodrow both in the top twelve. Coleman is tenacious pressuring defencemen trying to clear the puck, ranking top five in forecheck pressures and zone exit disruptions. The extent to which these three limit the amount of time that opponents have to make decisions is impressive and one of the key reasons they've been such a buzzsaw.
WIth the help of InStat Hockey, I've compiled a collection of highlights from these playoffs that shows what this looks like on the ice. Some are goals, some are offensive zone possessions, and some as forecheck pressures that give a sense of how those stats above came to be.
Conclusion
If the Lightning win the Cup (and maybe even if they don't), teams are inevitably going to try to learn lessons from how they took the leap this season. If they approach the issue superficially as many observers have and conclude that they simply need to add "sandpaper" or "snarl" to their lineup, they're jumping to the wrong conclusion. The success of the third line demonstrates the value not only of forechecking, but of players who mix that tenaciousness with skill and systems that allows them to thrive. It should lead us to especially value players like Blake Coleman and Yanni Gourde, and recognize how gritty play can translate to on-ice results that are apparent to both analytics and the eye test.