Playoff Post-Mortem: Pittsburgh Penguins
A reflection on the Penguins' season and playoffs, and thoughts on what comes next.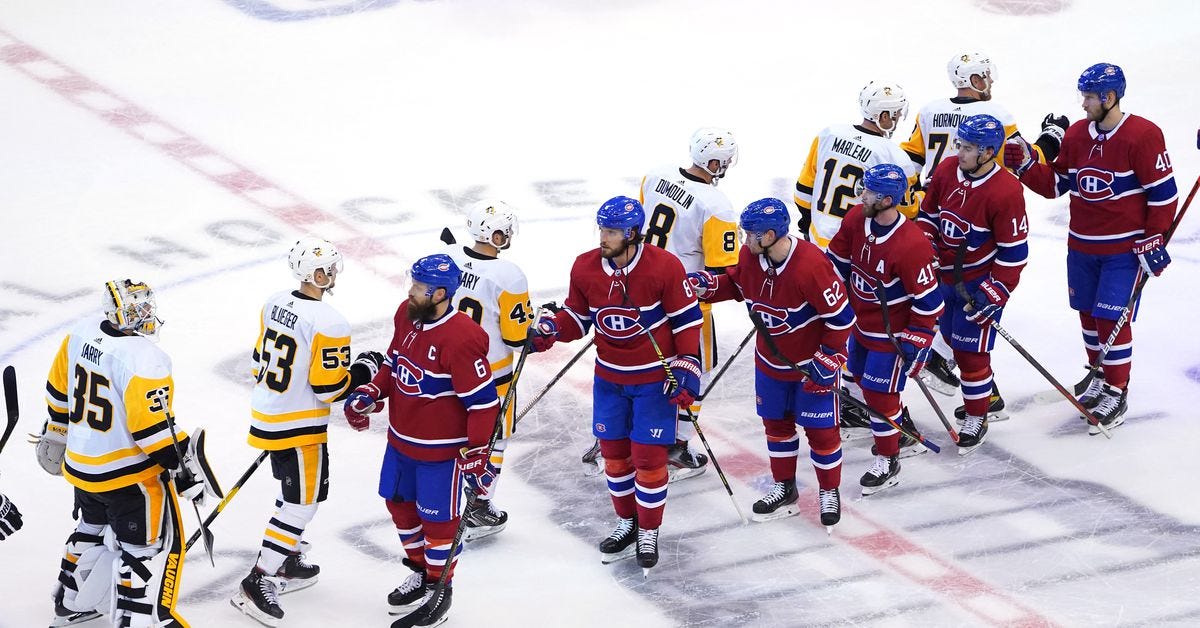 What Happened?
There are a lot of answers to that question.
The first one is the simplest, and it's the one that certain members of the Penguins had better hope sticks for the sake of their job security: they ran into a hot goalie. Carey Price turned back the clock big time, stopping at least a goal above expected in three of the four games, including a whopping 2.7 in game one. Some analysts (including me) ridiculed those who said that Price was a guaranteed x-factor, but he played at a level he hadn't reached since 2016.
The second one is that the Penguins stormed out to an excellent start in game one (the first period especially), couldn't finish their chances, and their performance deteriorated from there as they got more and more frustrated. Their expected goal share at 5v5 dropped by five points in each of the first three games before plummetting to a brutal 36% in game four. Their edge on the powerplay (not saying much considering the Habs' dysfunctional unit) kept them from dipping below 50% in all situations for the majority of the series, but similarly fell apart in the decisive game.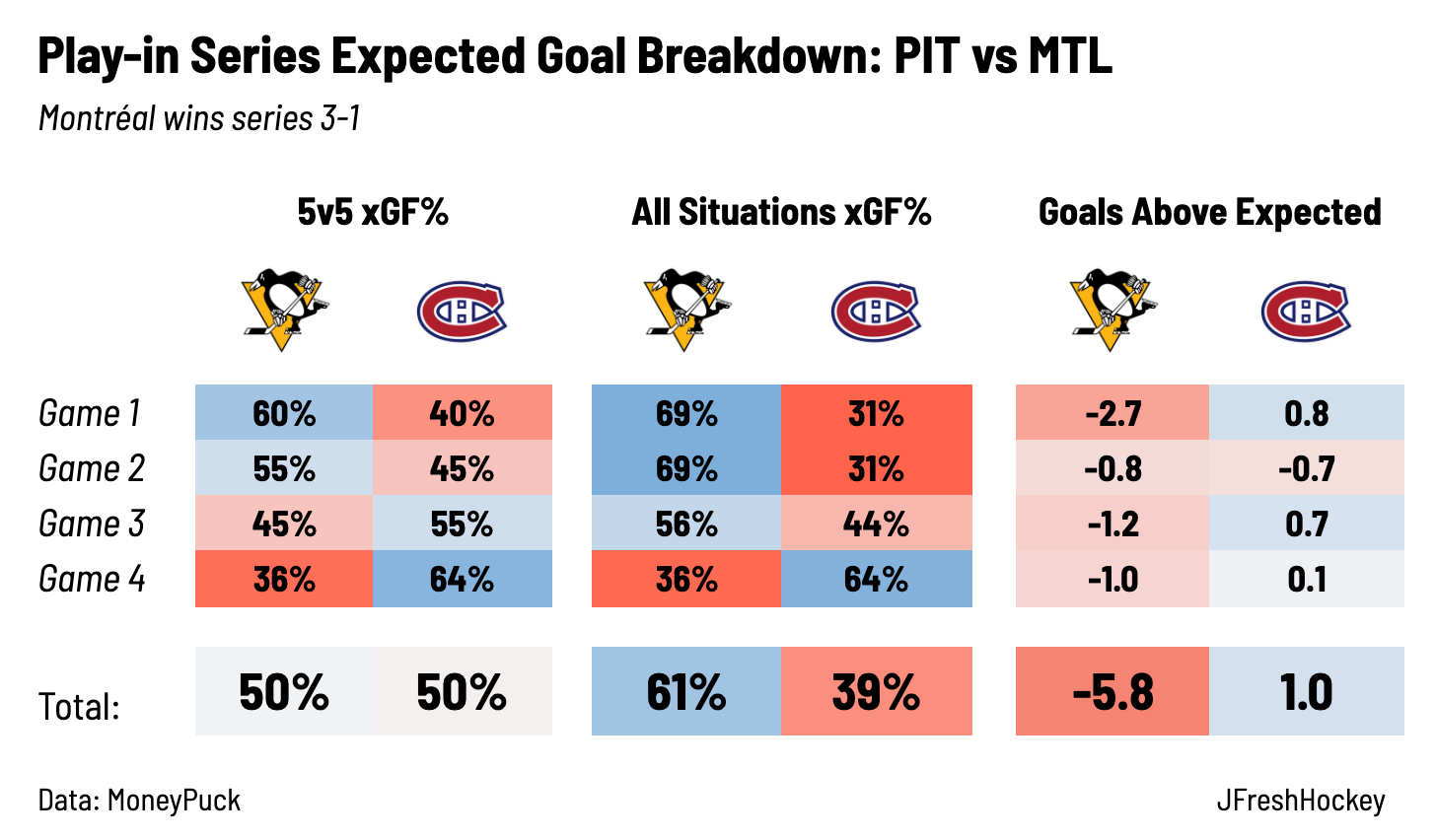 A third one has to do with the way they played the game. The Penguins relied extremely heavily on a dump and chase strategy, carrying the puck into the offensive zone only 48% of the time. Unlike in the regular season, where their tenacious forecheckers were able to recover the puck over a quarter of the time (2nd in the league), they only got 19% of the pucks they dumped in. This often led to the Penguins' attack ending before it even started. This issue was magnified in game four, when the team simply stopped competing for many of those dump-ins, and the offence died as soon as the puck was sent into the corner.
Finally, there's personnel. Jack Johnson's issues in this series have been well-discussed, but there were many other bizarre lineup decisions that each contributed to the Penguins' defeat. Justin Schultz was also terrible; he was on the ice for six Habs goals, inexplicably replaced Kris Letang on the top powerplay with awful results, and failed to help generate anything at all with the extra attacker. Patrick Marleau had an abysmal series yet stayed in the lineup. Jake Guentzel struggled to create offence with Crosby smothered by the Habs defence, and yet when an adjustment finally came in game four it was to the right wingers. And then there's the goaltending. Murray didn't get the job done in the first three games, letting out juicy rebounds all over the place that the Habs fortunately were generally unable to capitalize on. Jarry came in and played fine. Overall, Mike Sullivan did not put his roster in the best position to win.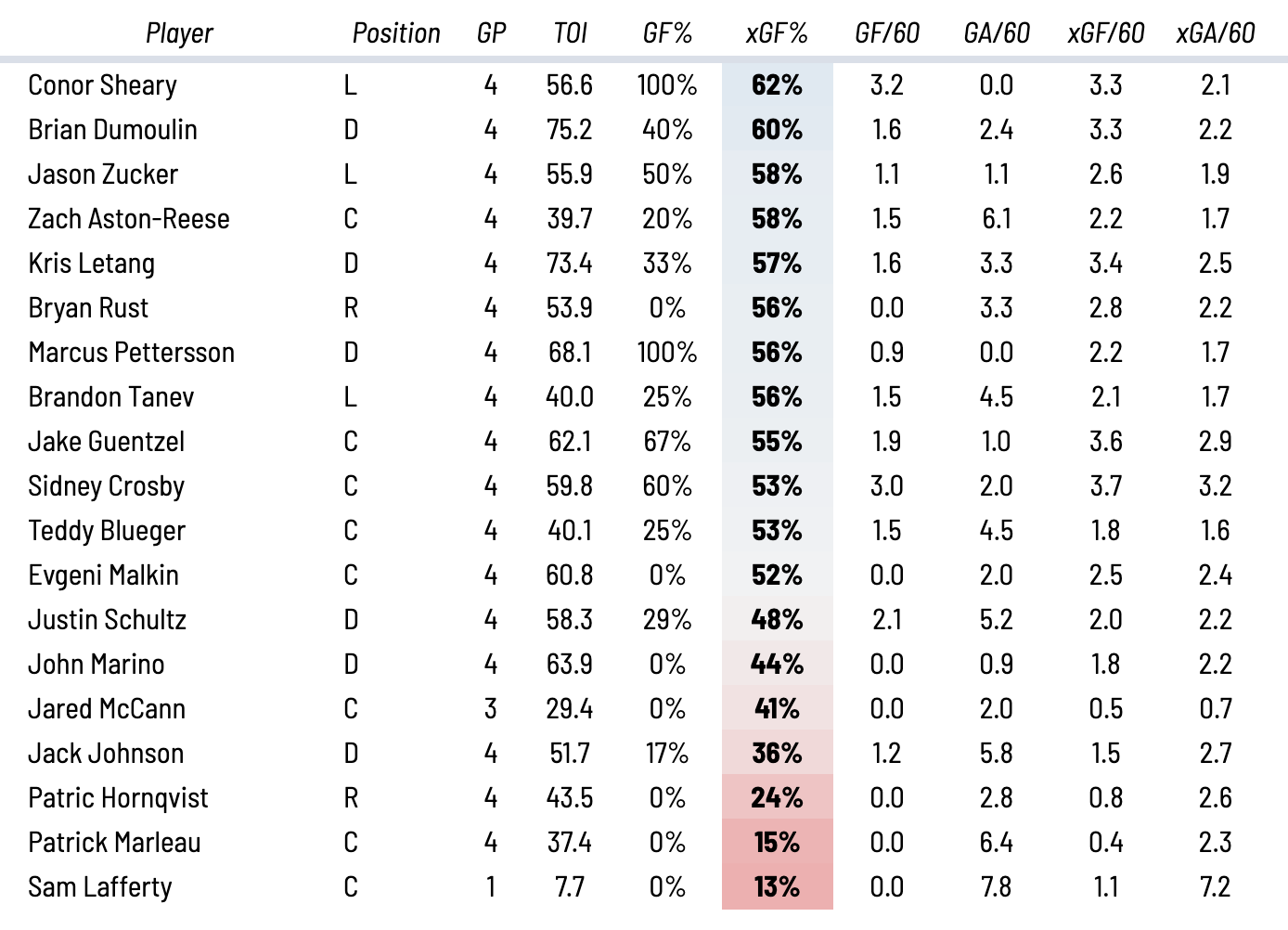 Season Review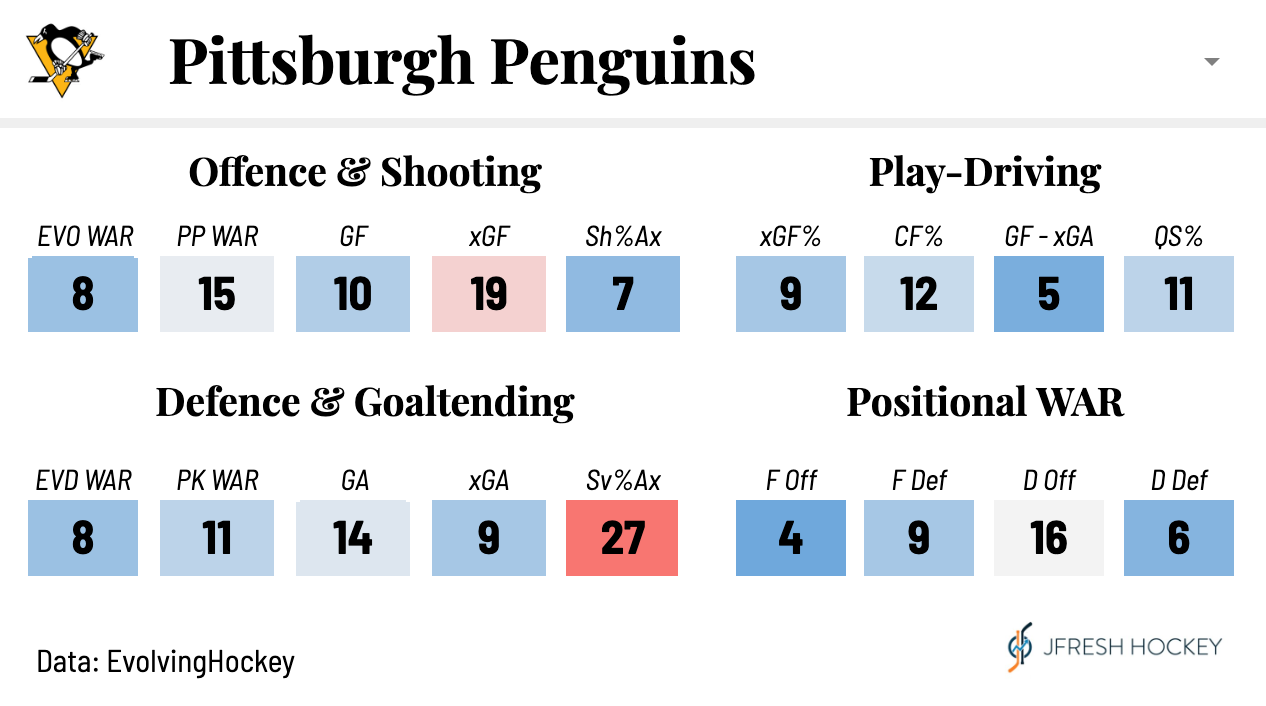 In my mind, there were two Penguins seasons: October until January, and then February until March. In the first, they were a dominant team destined to contend for a Cup. In the second, they showed why we should maybe have seen this outcome coming.
The Pens were overwhelmed by injuries in the early parts of the season, headlined by Sidney Crosby missing a long stretch after getting surgery. Recognizing that they wouldn't be able to play the high-flying offensive game they were used to, the team instead clamped down and became a stifling defensive unit. Between November 1st and February 1st, the Pens ranked 3rd in expected goals against per 60, enabled by the defensive dominance of an emergent shutdown line of Zach Aston-Reese, Teddy Blueger, and Brandon Tanev which could be trusted to neutralize top competition and by the end of the season would rank as the most effective defensive forward line in the league. Rookie defenceman John Marino, acquired for a 6th round pick in the offseason, surprisingly made the team out of training camp, and looked promising on a shockingly competent pairing with Jack Johnson. Once moved up the lineup, he began to improbably emerge as one of the best defensive defencemen in the league.
Matt Murray struggled mightily to begin the season, which provided an opening for Tristan Jarry to step in and blow the doors down. His hot streak in December coincided with the Penguins' best team defence, making the team almost impossible to score on when he was in the net. Meanwhile, Evgeni Malkin stepped up big time with Crosby out of the lineup. Lining up with Bryan Rust, who overnight went from being a tunnel-vision prone puck retriever to an incredibly effective offensive player who was patient with the puck and could score goals in bunches, and Jake Guentzel, Malkin turned back the clock and led the way.
Then things fell apart. Jake Guentzel's season ended in December after an ugly injury following a goal. Injuries to Brian Dumoulin and John Marino not only deprived the Penguins of their two best defensive specialists, but created an opportunity for Jack Johnson to step onto the top pair with Kris Letang, where the two of them would form the worst pairing of the Crosby era. Combined with Jarry falling back to earth and Crosby not looking quite right upon his return, the Pens tumbled down the standings and out of what would eventually turn out to be a top four bye spot.
The general manager also can't be considered guiltless here. While finally acquiring Jason Zucker was a smart move (especially considering the injury to Guentzel), Rutherford decided to go all-in on addressing what he perceived as a lack of depth at forward. He traded Dominik Kahun, who had played excellently (on pace for 1.9 WAR) for two rentals in Conor Sheary and Evan Rodrigues. He also acquired Patrick Marleau. For a team who had received gutsy and effective play from their young organizational depth players like Sam Lafferty and Adam Johnson, adding a pile of new forwards to the locker room didn't seem like the right move. The Pens' slide continued into the hiatus - and, as it turned out, after it as well.
Where Should They Go From Here?
Don't trade Malkin and Letang. They're not going to, but apparently this needs to be said. Blowing up the core of this team will do nothing but accelerate the looming and inevitable rebuild.

Don't fire Mike Sullivan. Not yet. This is mostly because I don't trust JR not to hire Laviolette, who by HockeyViz's coaching isolates has had a major depressive effect on his teams' offences for the past decades. Imagine Mike Johnston but with a strong reputation and a relationship to Rutherford that precludes him from getting fired. shudder. Just be ready to can Sullivan if it needs doing midseason.

Trade Matt Murray and sign Tristan Jarry. This team doesn't have the cap space to kick the can down the road again. There are teams that need a youngish goalie, and they'd be happy to receieve one who's got two Cup rings. See if you can't attach Nick Bjugstad's contract to him. Run Jarry and DeSmith as the duo.

Consider adjusting the system. Dump and chase works if you have the legs and the desire to get those pucks back. With this team getting older, and with what we saw in the past two playoff rounds, neither of those can be taken for granted.

Go young and hungry. This Penguins team looked indifferent in that elimination game, and it's no coincidence that it was also the oldest team in the tournament. The way the Pens play demands full buy-in, which is what they've always gotten from their AHL call-ups. Leave space in the lineup for the Laffertys of the world to add energy instead of clogging things up with Marleaus and Johnsons.

Buy out Jack Johnson. No one is going to want to acquire him, and in a flat cap environment the cost of a no-upside cap dump will be high. Paying ~$1M for the next six years for no Jack Johnson is a hell of a lot better than paying $3M for the next three years for Jack Johnson. We now know that there is nothing that will keep him out of the lineup, which means the only option is for Rutherford to take the toy away from Sullivan.

Do not re-sign Justin Schultz. EvolvingWild project him at 3x$3.9M, which would be a travesty for whichever team is deceived by his Cup rings, 17-18 season, and their own need at RD. Sullivan clearly still trusts him, which means he needs to be gone. Don't resign Marleau (duh). Re-sign Juuso Riikola and give him and Chad Ruhwedel the chance to play as the bottom pairing next season. With Letang and Marino on the top two pairs, they'll be getting inherently sheltered minutes anyway. The organization seems high on Pierre-Olivier Joseph, he can be the #7 if they want. Both players did well this season, including as a pairing.

Set a ceiling on the McCann extension and a possible Sheary contract. If McCann wants to get paid $4M, shop him to a team desperate for a youngish centre. If Sheary wants anything approaching top six-money, let him walk.
This Penguins roster can still contend. They were one of the best teams in the NHL in the regular season, and with some extractive surgery they could be near the top of the league again. The window is closing rapidly, and what Rutherford does this offseason could determine how quickly it finally does.